Design flooring: Your healthy alternative. PVC-free and free of harmful plasticisers - a floor for the whole family
Do you like the particularly warm look of wood? Are you looking for a healthy floor covering that is free of harmful substances, easy to clean, hard-wearing and easy to install? Our DISANO Design floors fulfil all your wishes and are free of PVC and softeners. In addition to an authentic wood or trendy tile look, our design floors, which are manufactured in Germany, impress with their pleasant feel underfoot and high quality. Of course DISANO can also be laid in the bathroom, in the kitchen and on stairs. The waterproof versions Saphir and Project as well as the moisture-resistant versions LifeAqua and ClassicAqua are suitable for installation in damp rooms. Thanks to click installation with Top Connect, laying our design floors is also child's play for passionate DIY enthusiasts.
NordicSwan
Our ClassicAqua and LifeAqua product ranges are certified by Nordic Ecolabelling with the Nordic Swan and thus meet strict health and environmental requirements as well as good indoor climate.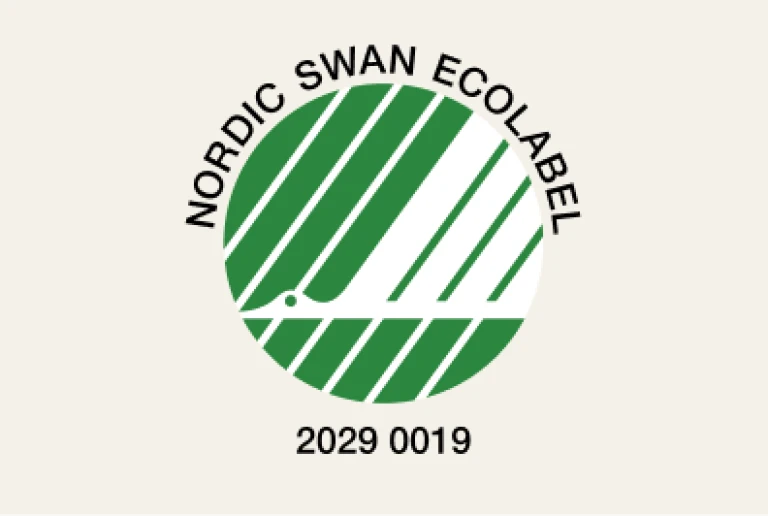 Superior in every respect - strong arguments for our design floors
Do you value a balanced diet and a healthy lifestyle? Then you should also pay attention to the health of your new flooring. As a German brand manufacturer, the technical and ecological quality of our products is important to us. Healthy living is a high priority. That is why harmful substances have no place in our products. The pollutant-free quality of our design floors is confirmed by the Blue Angel and the eco-Institut label for ecological aspects.

Our design floors bring healthy living into your home.
But they also have many other advantages. When the warm rays of the sun flood your home, it's a reason for a good mood. At least if you have chosen a design floor from HARO. Because the UV radiation contained in the sunlight cannot DISANO do any harm. Our floor coverings retain their shape and colour throughout their entire service life. When plasticisers in many floors containing plastics lose their effect over time and evaporate, the floor becomes brittle. You can therefore be pleased if you have chosen a DISANO Design floor without softeners. Our surfaces always remain soft and elastic.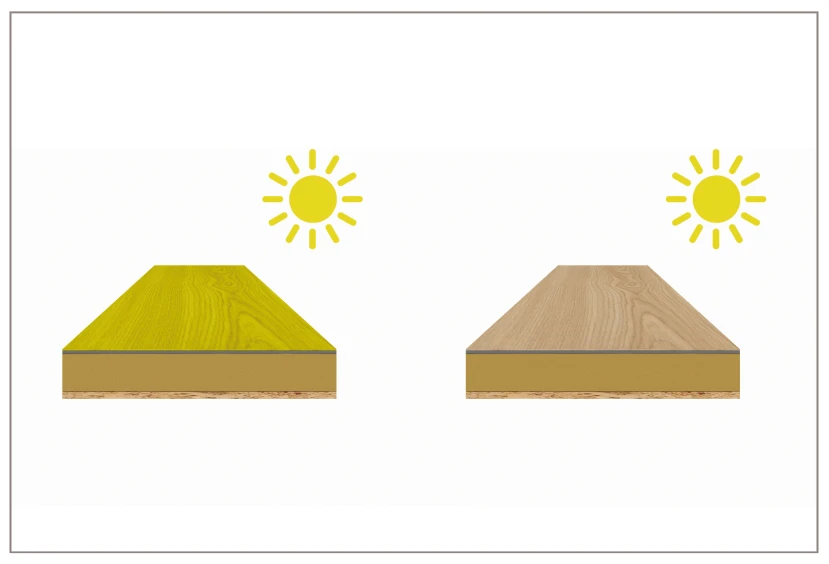 No discolouration
DISANO retains its colour over its entire service life even when exposed to strong UV radiation from sunlight.
Problem-free disposal
DISANO is free of plasticisers and problematic halogen-organic substances and can therefore be disposed of in household waste without hesitation.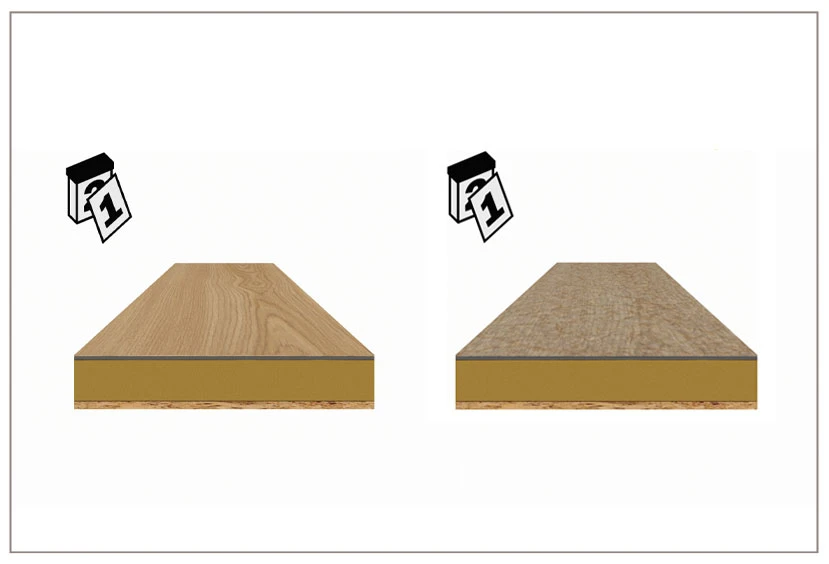 No embrittlement
Many plastics can age and become brittle due to UV influence and the release of plasticisers. DISANO is resistant to ageing and remains permanently elastic.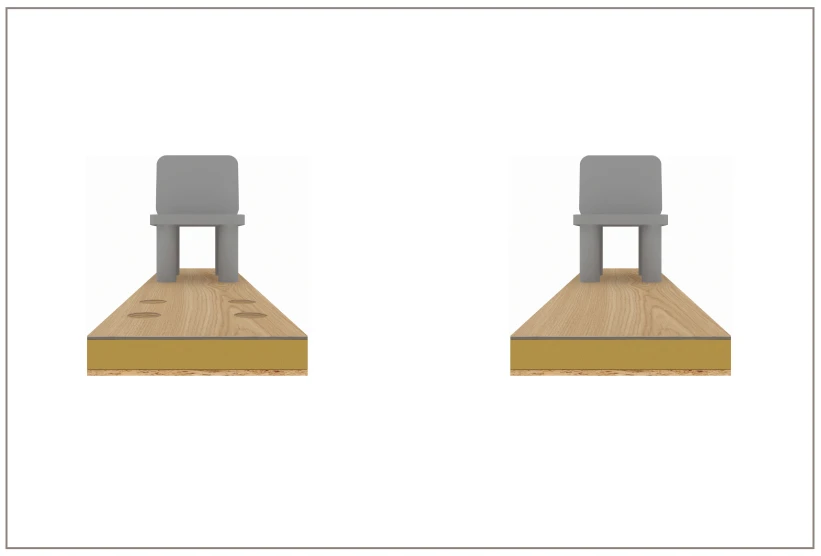 No dents
On floors containing plasticisers, permanent dents can be pressed into the surface by furniture or chair legs (so-called "cold flow"). With pressure-stable DISANO, dents and marks caused by furniture are a thing of the past. Even slight unevenness in the subfloor is compensated by our design floor due to its structure.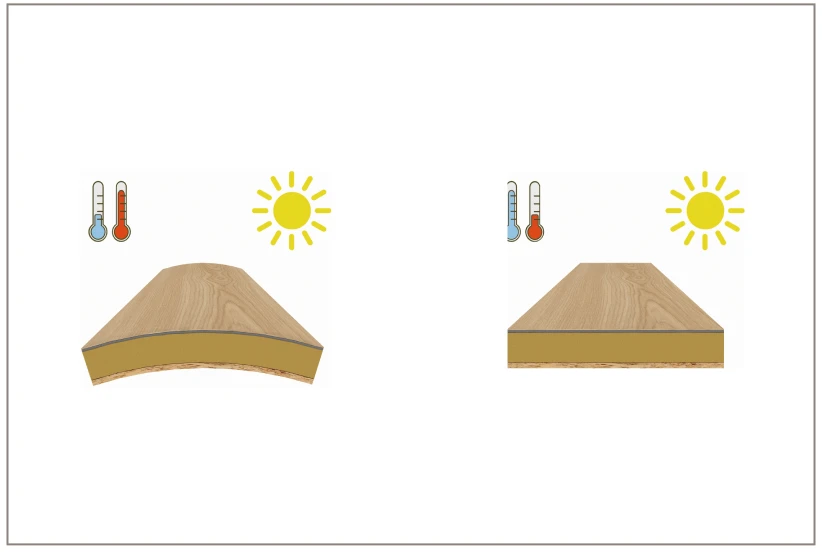 High dimensional stability
While all-plastic floors can react to heat with bulging, DISANO remains wonderfully flat and dimensionally stable for years thanks to the Rigid Core Board backing board.
5 reasons why you should choose a design floor:
Pleasant warmth and comfort

Thanks to the multi-layer construction and the carefully selected, healthy materials, you won't get cold feet with our design floor.

Suitable for damp rooms

All series at DISANO are suitable for use in damp locations. The ClassicAqua, LifeAqua, SmartAqua and WaveAqua series have reliable moisture protection. The DISANO Saphir and Project versions are even waterproof. This means that HARO design floors can also be laid in the bathroom without hesitation.

A floor that withstands all stresses and strains

Our design floors can even withstand the wild mob at the next children's birthday party. A floor for intensive use, such as in the entrance area or for commercial use.

Floor care has never been so easy

Simply vacuum or, for heavier dirt, take out the mop and in a few moments your floor will shine like new. This works best with our clean & green care series.

Soft and stable at the same time

Just like cork, DISANO is also pleasantly soft. The elasticity of the floors ensures a pleasant walking sensation. In addition, the SilentSense surface protects the design floor from dents and moisture.
A design floor from HARO combines warmth, softness and comfort with durability and easy care - healthy floors for your home.
Design in series
Our extensive design flooring range consists of various series, all of which are free of harmful substances and feature a high-quality wood look and tactile structures or a trendy stone look. The DISANO WaveAqua, with its scratch-resistant Surface Protect surface and AquaReject coreboard, which is particularly insensitive to moisture, is a robust entry-level design floor DISANO LifeAqua is particularly warm underfoot, hard-wearing and easy to clean thanks to its SilentSense surface technology. As the name already suggests DISANO ClassicAqua with its AquaReject core board is resistant to moisture. The ElastoTec layer gives this design floor a pleasantly soft walking feel DISANO Saphir is particularly suitable for use in rooms with heavy traffic. The hard-wearing floor covering is also a real eye-catcher in damp rooms. For professional bonding, our design floor DISANO Project. This waterproof flooring creates a warm atmosphere and is extremely hard-wearing at the same time.

Still unsure which is the right flooring for your home? We would be happy to tell you more about the different looks in the Design Floor Appearance range.
Did you know?
Manufacturers often advertise that laying residues are recycled. However, this is not a statement of quality. Rather, it says that this waste is too hazardous for disposal in normal household waste.
A floor that simply always fits
From Nordic Chic to Industrial Design, no matter which interior design style you like best, we have the right floor covering in stone or wood look ready for you. Our DISANO decors always pick up on current living trends and make your home a real eye-catcher. If you like it Scandinavian, decors with light shades such as oak glacier*, oak riva*, pine nordica* and oak white* go particularly well. For the perfect BoHo style, opt for an elegant decor with darker colours. Cambridge oak*, French smoked oak*, walnut* and wild oak* radiate cosy warmth.
When the colour matches, all you have to do is decide on a texturing. Rustic softwood decors fulfil your longing for naturalness, while calm oak decors reflect the beauty of real wood. Rustic oak decors with accentuated bevel convince with a look of real parquet.
Do you fancy something new? Then our Piazza design is the right choice for you. It also offers decors in natural stone look, concrete*, marble*, sandstone* or slate* and convinces with short, wide elements in tile format. A special, natural look for your home.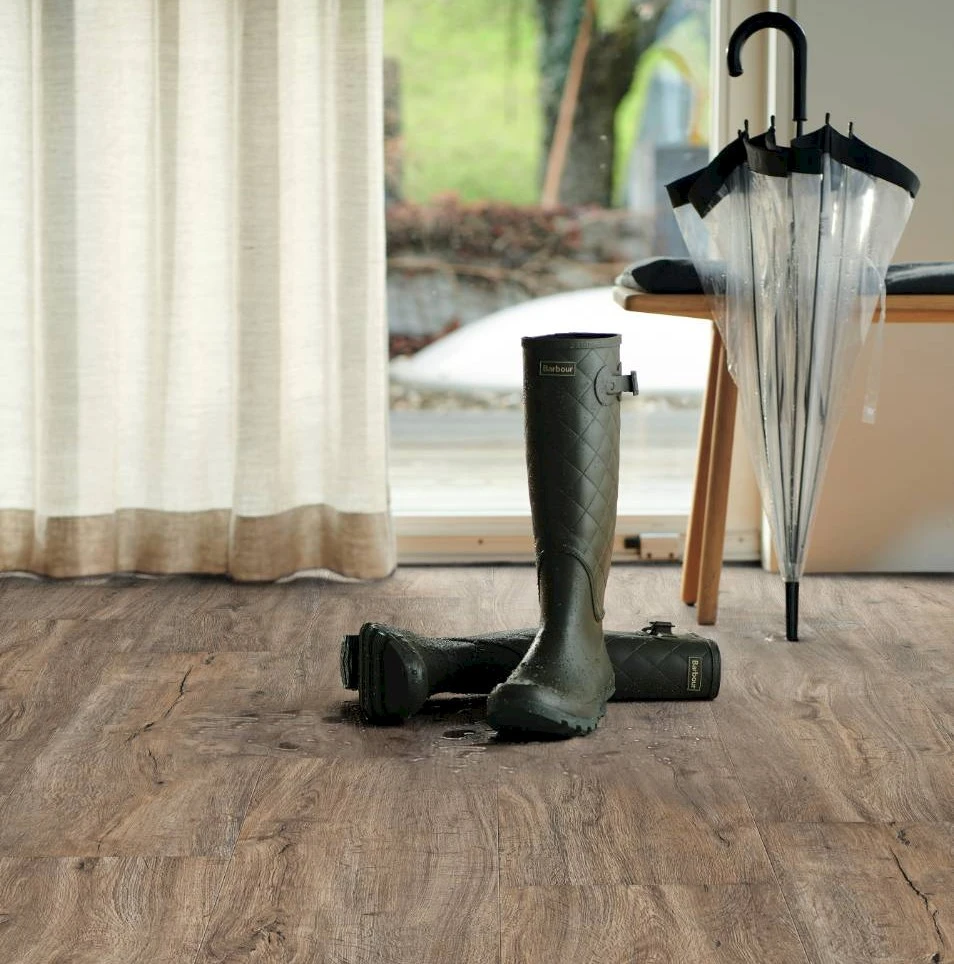 How to care for your design floor properly
DISANO is a real all-rounder that you can enjoy for a long time. The healthy floor covering is not even a hassle when it comes to maintenance. Since they are antistatic and dirt-repellent, just like our cork floors, our design floors are also suitable for allergy sufferers. Fortunately, you won't find dust and mites here. With a hoover or broom, this easy-care floor covering is clean in no time. If there is a little more dirt to remove, you can also damp the floor with a little water DISANO can also be cleaned with a little damp water. For modern, health-conscious households, we recommend clean & green natural for regular floor cleaning.
Design floor cleaning & care
You can find detailed instructions for cleaning and maintaining your DISANO design floor here.