This floor matches everything you already have.
Do you like to spend your free time in nature and explore the idyllic landscape of the Großglockner or the Dachstein mountains on a long hike? Then you have certainly come across the larch a time or two. After all, the Alps are one of the most important distribution areas of this pine plant, whose occurrence also extends into harsher mountain regions.
The facts
Wood species: Larch (Larix decidua)
Wood colour: reddish
Hardness: medium to soft
Use: windows, doors, flooring, construction timber, furniture
In your home, parquet made of larch convinces with a warm and natural look, which ensures a pleasant room appearance. Due to their strong grain, larch planks have an extremely rustic appearance. This is particularly well expressed when the wooden planks are naturally oiled, as is the case with our larch parquet. Furthermore, larch parquet is very warm underfoot, which, in addition to the natural look, provides an additional feeling of cosiness and comfort in your home.
A pleasantly soft floor
Like all coniferous species, the wood of the larch has no fixed hardness. The hardness range varies depending on growth and region. Larch wood belongs to the soft to medium-strength wood species. Parquet made of larch is therefore ideal for cosy living rooms and less heavily frequented rooms.
Colour change of your larch parquet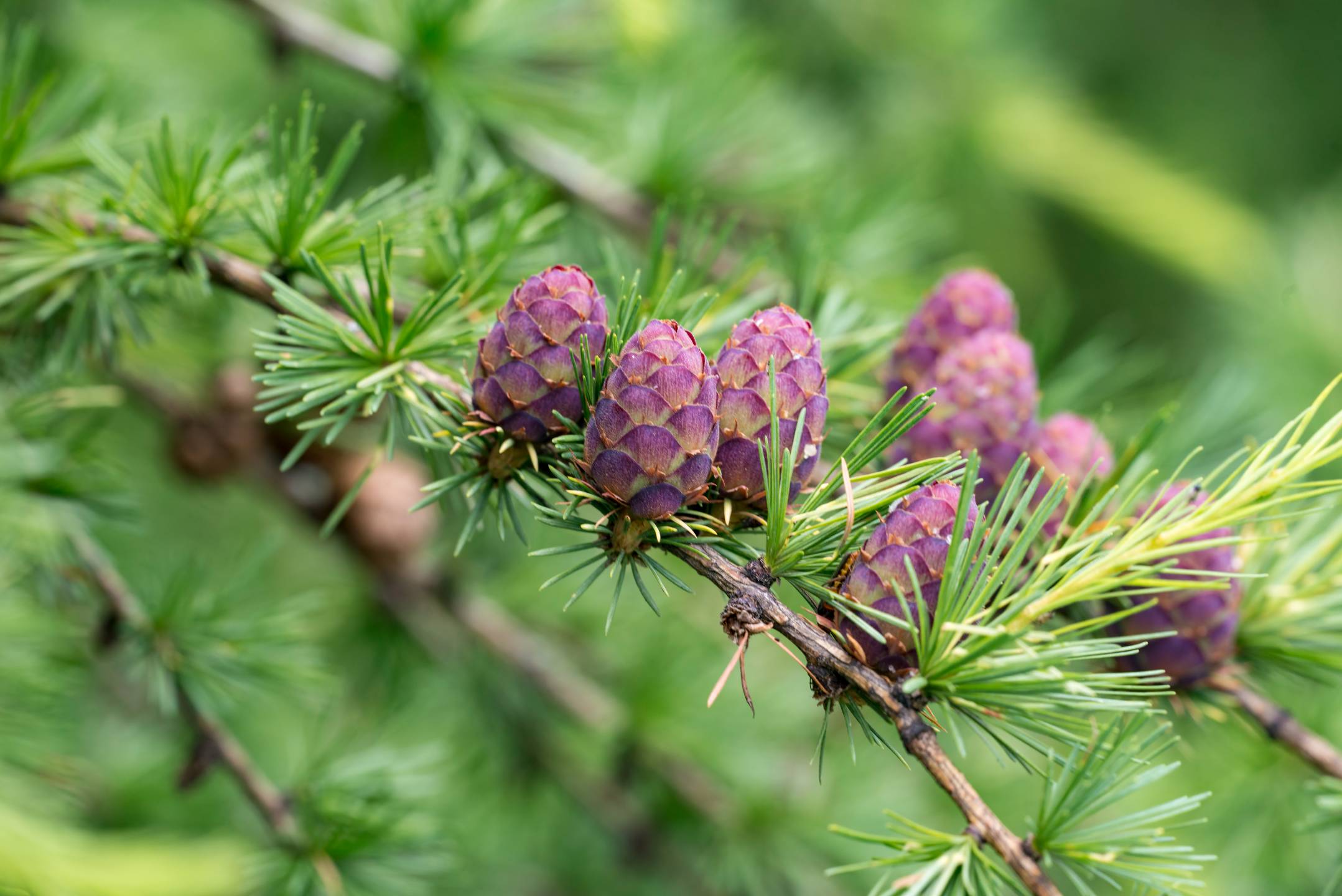 Lignin is an important natural component of wood, but it is also responsible for the fact that the wood colour changes under the influence of the sun. Like most light-coloured woods, larch parquet also darkens over time.
We offer larch parquet as a classic plank in three expressive variants, all with a natural oil finish:
The plank 4V Larch tobacco grey universal retro structured towers above the others, in the truest sense of the word. The ideal floor for all those who are looking for a particularly expressive and natural parquet. Because the accentuated structuring, which deliberately brings out the knots in the wood, makes this parquet plank look particularly lively, which is impressively underlined by the colour oiling in lively shades of grey. Above all, modern, simple furniture becomes an eye-catcher with this parquet.

As larch puro white, our larch parquet underlines the motto "pure nature". The oiled country house floorboards look particularly noble and authentic. Thanks to their unobtrusive charm, the light-coloured parquet planks fit perfectly into your living environment and are wellness for the eyes.

With the 4V Larch Universal plank version, on the other hand, the natural, reddish, rich colour is allowed to work for itself, giving your home a special cosiness. The warm look of the parquet floor suits modern interiors just as well as classic ones.
Do you want to find out which parquet colour best suits your personal style? Then why not use our HARO Room Visualizer and try out the floors in your home. Simply take a photo, upload it and lay the parquet floor virtually. This way you can see right away whether the floor matches your interior and which installation direction is the best.
No fear of naturalness
Cleaning and maintaining oiled parquet floors made of larch wood is completely uncomplicated. As with all wooden floors, dry cleaning with a broom or hoover is usually sufficient. For heavier dirt, simply wipe the parquet damp with clean & green natural. And occasionally, depending on the individual wear and tear, refresh the oiled wear layer with clean & green aqua Oil. In this way, you can give your natural floor a new shine in no time at all.