Laminate - the right cleaning and care for your floor
In this article, we give you our most important tips for reliable floor care.
Dried-on dirt from the last visit to the forest, sticky stains from ice cream or even small scratches in the laminate - a laminate floor has to withstand a lot every day. To keep your floor covering looking its best for a long time, it is important to clean laminate regularly. How often should you mop laminate? Which cleaning and care products should you use? How can you clean laminate flooring without leaving streaks? And what is important when it comes to laminate floor care? We show you how to keep your new floor shining beautifully for a long time.
The nuts and bolts of laminate care
The good news at the outset is that you have not only made the right choice in terms of quality and design with your floor covering. Laminate is one of those floors that is also easy to clean. So you don't have to invest a lot of time and effort in laminate maintenance. However, you should know how to clean your laminate floor really effectively.
1. Laminate floor care tip: Sweeping and vacuuming are expressly encouraged
One of the advantages of laminate floors is that you can keep the floor clean just by sweeping or vacuuming regularly. Dry cleaning laminate is the basis for mopping. If you use a hoover to remove loose dirt, dust and the like, remember to extend the brush ring. As with hard floors or tiles, the wrong brush attachment can leave unsightly scratches and marks on laminate flooring if the nozzles hit the surface directly. A broom should have soft bristles.
2. Tip for laminate care: Please only wipe "damp"
Laminate flooring inspires with its smooth and fine surface. However, even though the surface is one of the most resistant of all floor coverings, water can penetrate laminate floors, especially at the plank joints and if micro cracks are present, despite the best quality and all care. Therefore, only wipe the floor with a damp cloth.
3. Laminate floor care tip: How often should you mop your laminate floor?
Are you wondering how often you should wipe your laminate flooring? It is perfectly sufficient to damp-mop it at regular intervals and as needed. Less is more with laminate flooring. In areas with little use, such as the bedroom, an even longer cycle between cleanings is often sufficient than in rooms that are more heavily used on a daily basis. With laminate flooring, you simply have more time for the finer things in life.
4. Tip for laminate care: The best agent of choice
When cleaning your floor, use a special laminate cleaner. Although some household remedies are recommended for cleaning laminate, you can be on the safe side with ingredients specially formulated for the floor covering. Wiping is effective and, above all, streak-free with clean & green active intensive cleaner. Used in cold water, the slow drying process prevents streaks from forming. And even stubborn stains don't stand a chance. Incidentally, this special laminate floor cleaner does not contain any harmful additives. Naturalness looks best on your laminate flooring.
Our care experts will show you how to clean your laminate with clean & green active: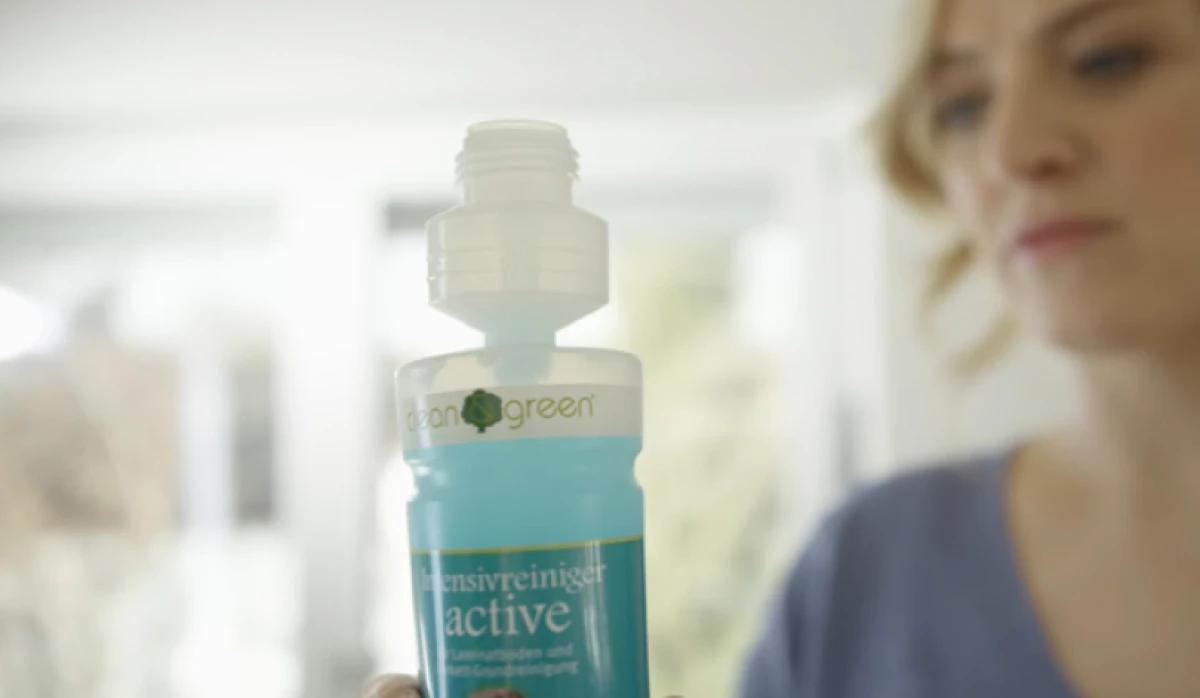 5. Laminate care tip: The super powers for your laminate floor
With clean & green aqua shield, you can give your laminate the finishing touch. The sophisticated and equally environmentally friendly formula seals your floor and forms the crowning glory of careful laminate floor care. The protective film ensures that no moisture can penetrate the material, increases resistance and provides an elegant shine. The use of clean & green aqua shield to visually freshen up and increase the durability of the laminate floor is perfectly sufficient once a year or when the floor covering begins to dull.
You can find out how to apply the laminate care product correctly and what you should bear in mind in the following video:
Laminate cleaning made easy. With this floor covering, cleaning the house is child's play. Do you want to make things even easier for yourself? Get to know our clean & green products now, all of which have been awarded the Euroflower. Also discover our entire range of accessories for optimal floor care.