Everything you need to know about our parquet.
The first rays of sunlight fall through the curtains. Bare feet tap their way from the bed to the coffee machine. Every step brings joy. Do you dream of a parquet floor? A piece of nature in your home? A wooden floor gives your home a warm atmosphere. It is suitable for every style of furnishing: from a rustic ambience to a modern look, the choice of parquet variants is large.

But what is parquet made of?
What do I need to know about formats and colours, wood types and surfaces?

Find out everything that is important about natural wooden flooring:

 
What is parquet?
Parquet is a high-quality floor covering made of wood. Hardwoods are mainly used for processing, often oak. But other types of wood such as maple, beech, ash or walnut and even larch are also available. Each type of wood brings its own specific properties to the table.

Wooden flooring has accompanied the development of mankind and has always adapted to current requirements. Today, the once simple plank floor is a technically mature product that continues to remind us of the security of our own four walls in the form of solid parquet or multi-layer parquet.

Solid parquet is the traditional way of laying a wooden floor. It consists entirely of one piece of wood. After the installation of solid parquet, the floor covering is sometimes not yet finished. It has to be sanded and sealed on site. Originally, the planks were nailed, screwed or glued together. In the past, they were usually not firmly connected to each other, which can be seen in the gaps between the planks, e.g. in old farmhouses. This is because wood is a living material. Wooden floors react more strongly to temperature fluctuations and changes in humidity. In winter, the parquet shrinks, in summer it tends to swell. These fluctuations are much more pronounced with solid wood floors.

Multi-layer parquet is the modern variant of a plank floor. This type has many advantages, as the floor works much less and protects the environment by using fewer resources: The structure can be two or three layers. The visible, upper layer is called the wear layer. It is made of carefully selected, high-quality precious wood and, according to the generic term, must be at least 2.5 mm thick. The thicker the top layer, the more often it can be sanded. Under this layer is the middle layer and possibly a third layer, usually made of softwoods. This multi-layered construction improves stability and makes it possible to attach a click connection, which is what characterises today's easy-to-lay parquet floors.
Note: Not all laminate flooring is the same
Parquet, like laminate, is easy to install. Nowadays, both are multi-layered and have a click connection. But unlike laminate, parquet is pure nature. In laminate flooring, the precious wood layer of a parquet floor is made of paper, e.g. in wood look, which is laminated into a robust synthetic resin surface. This makes laminate flooring very resilient and easy to clean. However, it cannot be sanded down and renovated. In addition, it does not offer the natural warmth and lively feel of parquet flooring.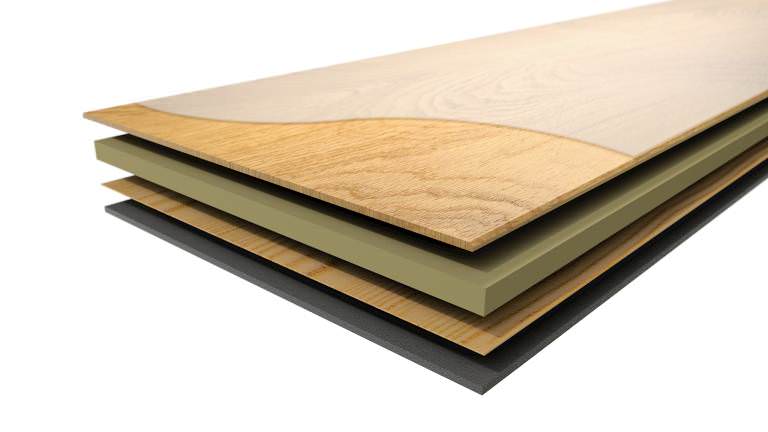 What other differences are there in parquet?
Oak, walnut or beech, plank or ship's floor: The appearance is one of the most important criteria for choosing the right floor. After all, the floor is a long-term investment in your home. The room effect results from several characteristics of the floor: the type of wood defines the colour, the surface the structure. Whether the room appearance is more calm or rustic is determined by the grading. And last but not least, the size of the individual planks has a decisive influence on whether the room appears larger or smaller.

The large number of variants in the range is also created by the so-called grading. The wood of the tree has different structures, with more and less knots. This wood is "pre-sorted" into groups. The range extends from harmonious to lively. Harmonious pre-finished parquet looks very elegant because of its calm grain and the few knots. In a plank with a lively grading, the natural inclusions, spindles and grains of the different wood species are more visible. This is characterised, for example, by a greater number of knots and cracks. The feet clearly feel the natural character of the wood.
In addition to the appearance, the surface treatment - i.e. is the wood lacquered or oiled - also plays an important role. You have the choice. While lacquered floors are more resistant to scratches, oiled floors cope better with moisture and can also be partially repaired. If a parquet floor is oiled, this emphasises the wood look. If a floor is brushed, this makes it a tactile experience. The more vigorously the surface has been brushed, the more texture you can feel with your feet.
Where can you use parquet?
With parquet flooring, you have a wide choice and thus a variety of possible uses: You can design your home in such a way that every room is shown to its best advantage. Step by step.

The classic area of application is installation in living rooms and bedrooms: click parquet with a ship's bottom look radiates a natural warmth in the bedroom, for example. Light-coloured floors, whether oak or maple parquet, are particularly popular. They create a minimalist atmosphere. Parquet flooring made of darker wood suits large rooms with white furniture. Plank flooring is also being used more and more often in the kitchen, especially with open-plan room concepts. Chestnut-brown beech, for example, forms an exciting contrast to a modern kitchen unit.
Make your living dreams come true: thanks to modern processes, you can even use parquet in the bathroom. It is oiled again after installation and is thus optimally protected against moisture.

If you like it particularly trendy, attach oak planks to the wall with a rail system. And create a wall covering with warmth and character.

Which floor covering suits your individual living situation and furniture?
Find out in the HARO Room Visualizer.
Can you lay parquet yourself?
Pre-finished parquet, click parquet - the above-mentioned variants have something in common: as a skilled do-it-yourselfer, you can install the valuable click parquet yourself. With just one click. You do not need any previous knowledge. Thanks to modern installation systems, laying parquet is quick and easy. You can lay your new parquet floating with a click system, without gluing or glueing. Matching skirting boards form the perfect finish.
Good to know
Floating installation is when you do not glue the individual wooden planks to the subfloor. You can remove the click parquet again without leaving any residue.
What care does high-quality parquet flooring need?
A modern finished parquet floor is easy to care for.

A hoover with a special parquet brush is sufficient for regular dry cleaning. Depending on your needs, you can wipe the wooden floor "damp" with a suitable cleaning agent, i.e. not too wet. For additional treatment, there are special care products for sealed floors and oiled parquet floors. This way you maintain the quality and the beautiful appearance of the floorboards.

Parquet floors are a long-term investment made of a natural material: Wood.
They change over time when light and humidity hit the parquet floorboards.
When the colour changes, experts also speak of a maturing process or the wood develops a patina. That is why you should move carpet bridges, for example, from time to time to maintain an even colouring of the surface.

Wooden floors also have the ability to absorb and release humidity. This is a very positive property for us residents. But the wood also works with the absorption and release, it swells and shrinks. This is a completely natural effect, which is taken into account, for example, when installing with a wall clearance. If you follow a few recommendations, you will enjoy your parquet floor for a long time.


 
Good to know
Parquet does not like high humidity or dry heat. You should also avoid excessive temperature fluctuations. The feel-good climate is around 50 to 60 percent relative humidity and a room temperature of around 20 °C.
Don't be afraid of signs of wear. As with colour change, a patina will develop that makes a wooden floor your parquet floor. Oiled parquet can be partially touched up. But there are also suitable renovation sets for sealed floors that help conceal minor mishaps. And if at some point it's time for a general renovation, you don't have to replace the finished parquet. You can sand it down and reseal or oil it. In most cases, you can sand your parquet floor several times. The frequency depends on the thickness of the wear layer.

Are you looking for a durable floor covering for your home? Learn more about the different types of parquet and the possible uses.