The homely alternative to the classic tiled bathroom
Dream no longer of your own cosy bathroom, because water cannot harm this floor covering.
Have you chosen one of our DISANO design floors for your living space? Good choice, because design floors are healthy to live with and, thanks to modern decors, fit in with absolutely every living trend. So now all you need is the perfect floor for your bathroom.
Vinyl flooring is out of the question because it contains PVC and softeners. Have you had enough of classic white tiles for a long time? Then why not try something new? May we introduce: all of our HARO design floor series are suitable for installation in damp rooms, such as the bathroom, and two of them are even waterproof.
Did you know:
When installing floors in damp rooms, they must be glued down over the entire surface. HARO Laying design flooring DISANO correctly: Here you will find detailed instructions.
After a sporty day outdoors, it is best to relax the muscles in a warm bath. When you get out of the bath refreshed, you don't want to step directly onto cold tiles. Even barefoot and in wet rooms, our HARO design floors show their advantages: they are soft, warm underfoot, hard-wearing and easy to clean. If you want to be even more comfortable, you can install underfloor heating under all DISANO floors without any problems, because they are all approved for use in bathrooms as well as in combination with underfloor heating. Before moving on to the selection of decors, you should decide between the waterproof design floors and the variants with wetness protection.
A waterproof bathroom floor
Our waterproof design floors DISANO Saphir and Project can be laid in water without any problems. Since the waterproof floors are made of solid plastic, they are just as suitable for use in the bathroom as the familiar tiles. Nothing at all happens to these hard-wearing floors when they come into contact with water. So don't worry if your children cause a small flood while splashing around in the bathtub.
Moisture protection for your bathroom
Our other design floor series DISANO ClassicAqua, LifeAqua, SmartAqua and WaveAqua also have moisture protection and are resistant. They can withstand standing tap water for up to 24 hours. Then, however, you should dig the mop out of the cupboard to remove the water. This way, your new floor will shine for a long time, even in the bathroom.
A tile is just a tile
Tile is a real classic when it comes to bathroom design. But just like tiles, all of our design floors are suitable for installation in the bathroom. If you have an eye for something special, you should take a look at our diverse DISANO Series. Because in damp rooms where your guests expect tiles, you can create a real eye-catcher with a floor in wood look. As an alternative to tiles, our design floors also impress with a wide selection of decors. From wood to concrete to natural stones such as marble and slate, you will find the right decor for every taste.

But it is not only visually that our design floors offer some advantages over tiles. The low installation height of the Saphir and Project series is ideal for renovations. Where the tile raises the floor, our design flooring leaves DISANO Leaves room for the installation height of underfloor heating. From cutting to size to installation, laying tiles is time-consuming. Even the transport weight is significantly higher than that of a design floor. Don't make life unnecessarily difficult for yourself. Our floors are cut to size and quickly installed. In addition, unlike tiles, design floors are warm to the feet. Cold feet are now a thing of the past.
Lots of choice in all series, for new verve in the bathroom
With our design floor, dreary bathrooms are finally a thing of the past. Thanks to many different decors, HARO design flooring breathes new life into every bathroom. Whether plank pattern Pinie Nordica or plank pattern Oak, there is the right floor covering for every taste. Our four moisture-resistant or two waterproof floors impress with their diverse surfaces and unique textures. In addition, each series has its very own advantages to offer. With DISANO, you can bring the warm look of real wood or natural stone into your bathroom in no time at all.
This turns your bathroom into an eye-catcher - an alternative to white tiles is offered by HARO design floors, with decors ranging from wood and concrete to natural stones such as marble and slate.
From DISANO ClassicAqua to LifeAqua, SmartAqua to WaveAqua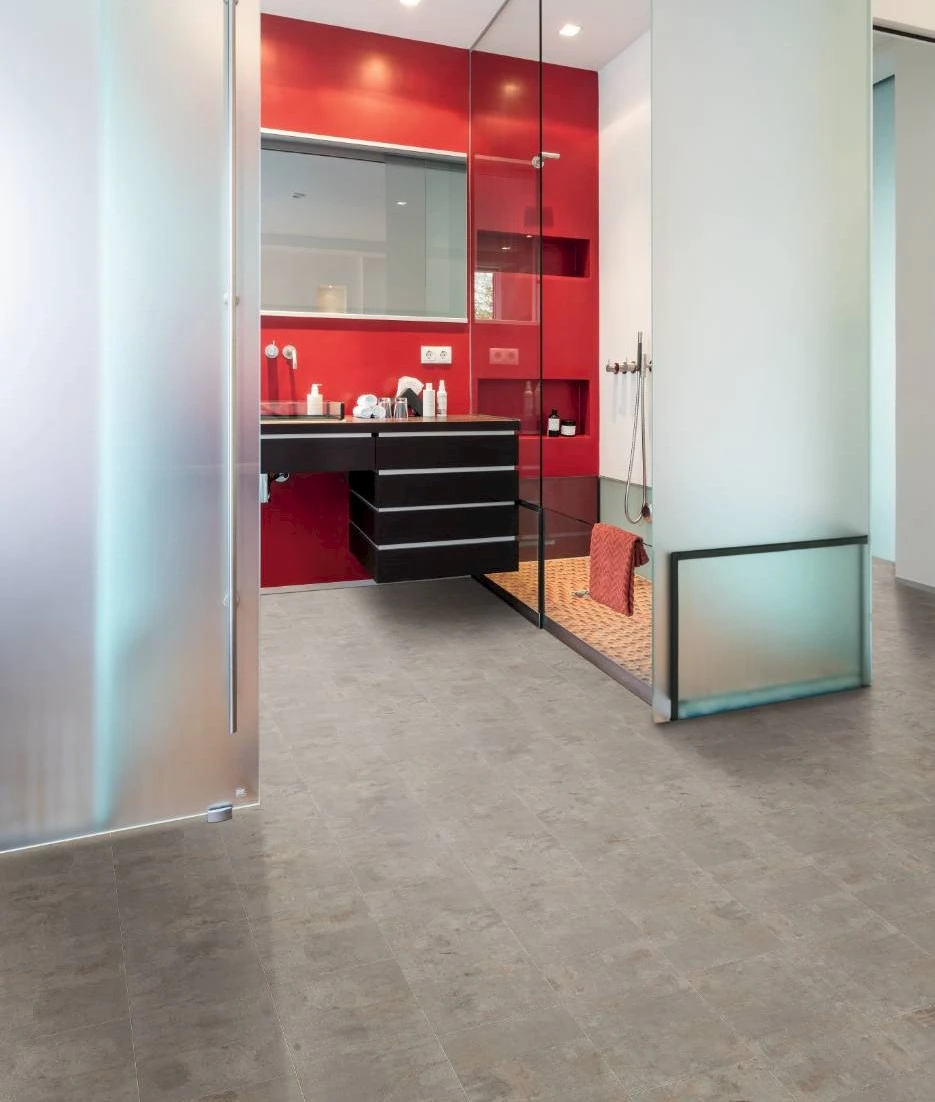 DISANO Sapphire
DISANO Saphir is a real all-round talent. Whether in the entrance area, kitchen or bathroom, this floor simply becomes an eye-catcher in every room. The extremely hard-wearing and waterproof all-plastic construction with Rigid Core Board backing board makes DISANO Saphir the ideal alternative to tiles in the bathroom. If you want the pleasant feel of a wooden floor and the trendy look of a plank with a four-sided bevel, you're doing the right thing with Saphir DISANO Saphir is the right choice. With a low installation height of just 4.5 mm, this floor is particularly suitable for renovations.
DISANO Project
Thanks to its ElastoTec layer and waterproof all-plastic construction, Project is also an extremely hard-wearing floor covering DISANO Project is also an extremely hard-wearing floor covering DISANO Project is glued down over the entire surface by professional installers. This makes this range particularly robust and easy to maintain. If you are in the process of renovating your own four walls, Project is the perfect choice DISANO Project with a construction height of 2 mm is exactly the right floor covering for you. Thanks to the fire protection class Cfl-S1 DISANO Project is also flame retardant and thus ensures a safe feeling in your own home as well as in the commercial sector DISANO Of course, Project also impresses with its appearance. Authentic wood and stone decors with a four-sided micro bevel create a pleasantly warm atmosphere in your bathroom.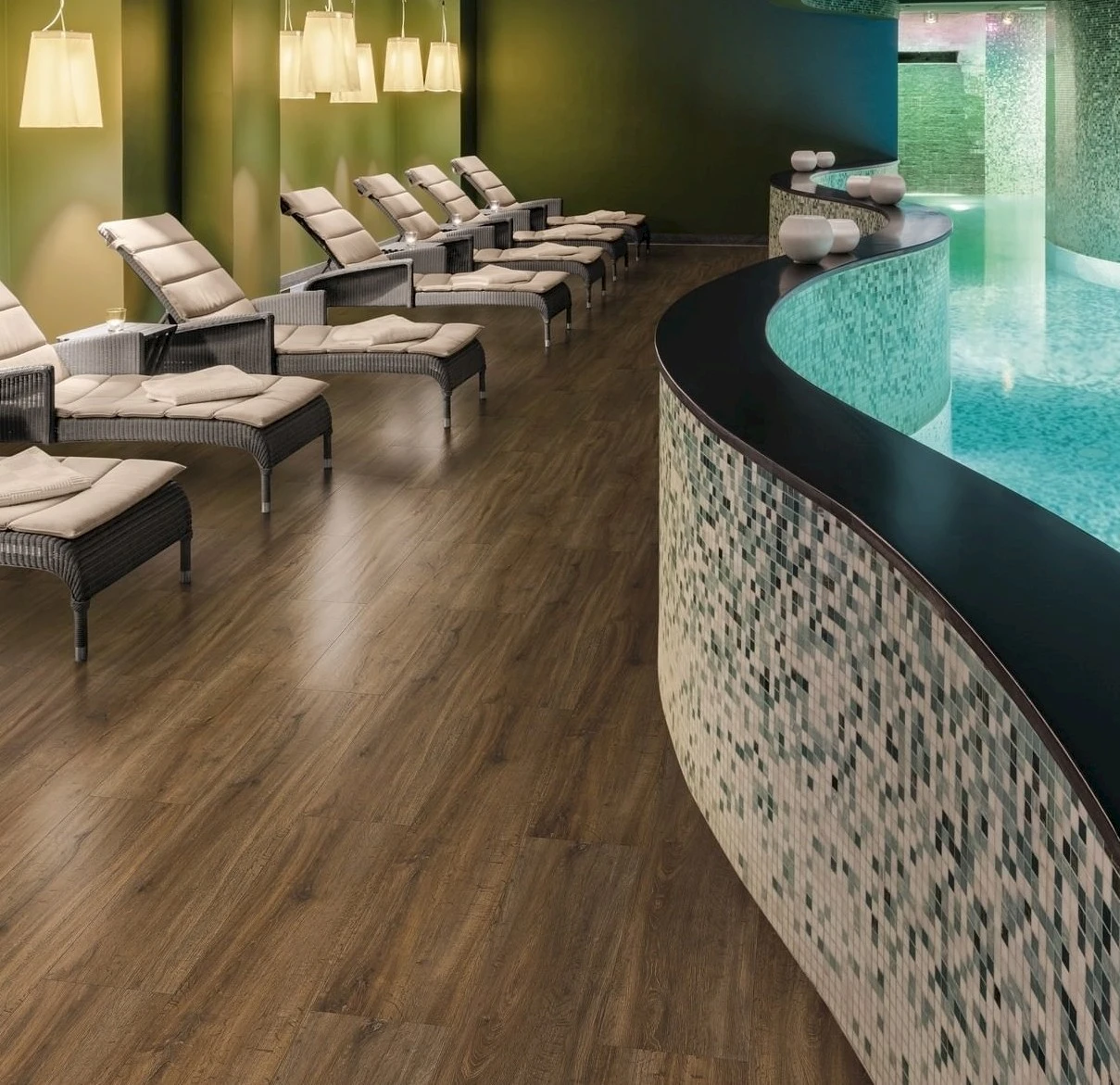 With our design floors DISANO Saphir and DISANO Project design floors, you can transform your bathroom into a healthy day spa. But be careful: Our waterproof floor coverings cannot be laid directly in the shower.
Enjoy life healthy and refreshed
In the bathroom, in particular, you want to feel good and unwind after an action-packed day. With our DISANO design floors, you can take a deep breath. The healthy alternative to vinyl is 100% free of PVC and plasticisers. Made in Germany from high-quality, innovative and carefully selected materials, these floors not only give your bathroom a contemporary look, they are also free of harmful substances. Create your own oasis of relaxation with our waterproof flooring.