Laminate for your underfloor heating
Laminate on underfloor heating is the latest trend
Underfloor heating systems have become the most popular heating system for all living spaces in recent decades. In new buildings, they are now installed directly in the screed as standard. Electric underfloor heating systems are placed both in and on the screed. No wonder: underfloor heating systems give you pleasant foot warmth. They spread a healthy indoor climate, as underfloor heating also reduces the dust that is stirred up in your home. This ensures an even feeling of well-being in all living areas. This is especially important for allergy sufferers. It also eliminates the need for annoying radiators, giving you more freedom in your interior design ideas. And underfloor heating saves energy thanks to the large-area heat distribution - the basic temperature can be lowered by two to three degrees compared to conventional radiators without noticeable heat loss. That's good for the environment and your wallet.
HARO Laminate on underfloor heating and underfloor cooling
For the efficient use of underfloor heating, apart from technical details, one other factor in particular is decisive: which floor is laid on top of the heating system HARO Laminate flooring is made of absolutely high-quality, tested material and is based on a well thought-out technical construction. The heat transfer resistance is very low. This is why these floor coverings are not only suitable for laying on underfloor heating and cooling: They are downright ideal for this purpose.

Thanks to the low thermal resistance, heat and coolness can penetrate the laminate flooring wonderfully. This also applies, of course, to our insulation underlays specially designed for underfloor heating for impact sound insulation.
Which impact sound insulation for laminate with underfloor heating?
We particularly recommend our Silent Energy DS insulation underlay. This impact sound insulation was specially designed for installation over underfloor heating and cooling. A vapour barrier is already integrated into this impact sound insulation. In addition, the underlay has optimal thermal conduction properties: The thermal resistance of the Silent Energy DS impact sound insulation is just 0.004 m² K/W.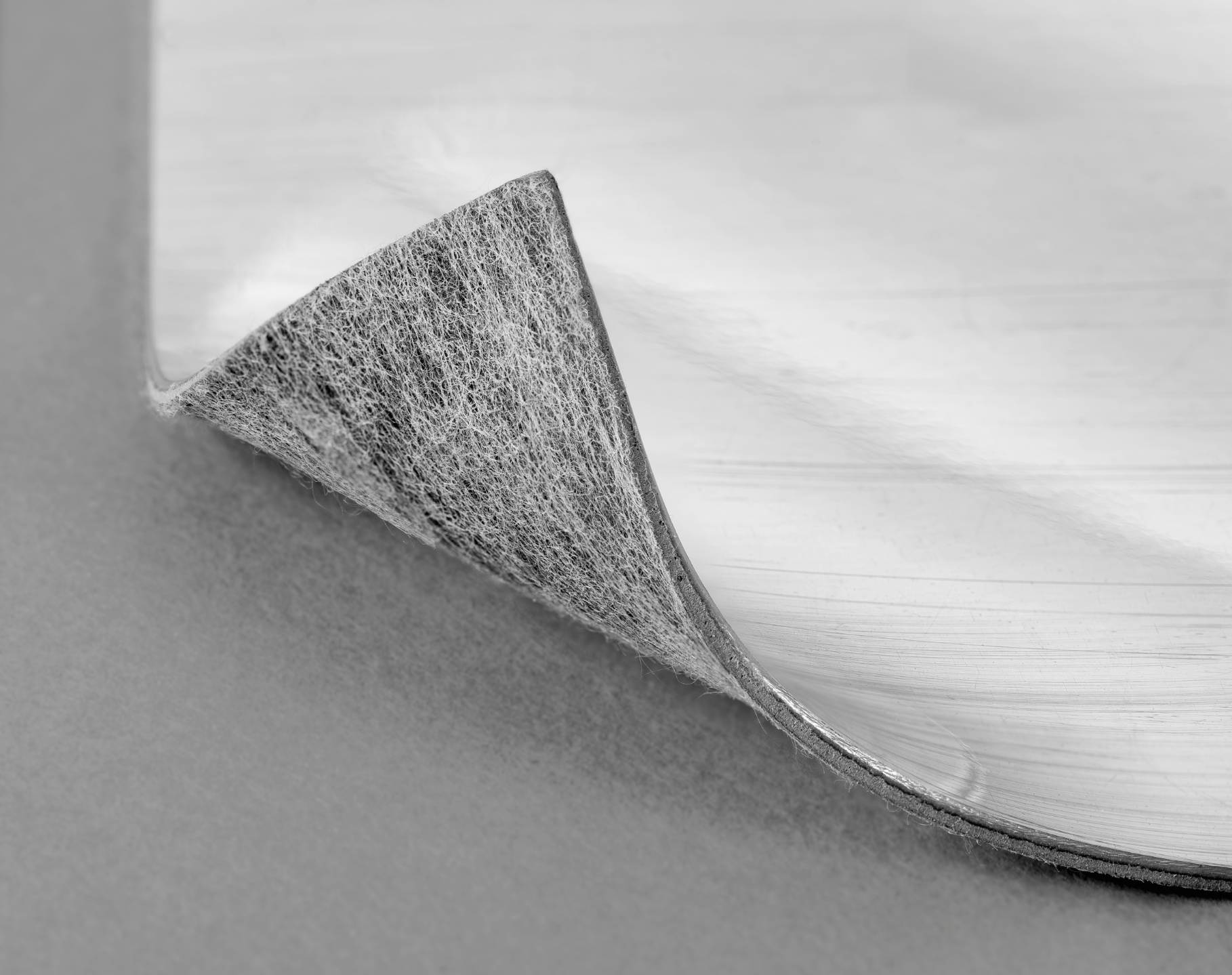 Silent Energy DS
High-quality acoustic insulation underlay with integrated vapour barrier. Perfectly suitable for use with underfloor heating

Thickness: approx. 1.5 mm, item number: 408292
Heat transmission resistance: 0.004 m² K/W
Laying laminate flooring on underfloor heating is easy to do yourself
Generally HARO Laminate is laid on underfloor heating or cooling in exactly the same way as on subfloors without heating mats or heating elements. The only difference is that, as with all mineral subfloors, a PE foil must first be laid as a vapour barrier to protect against rising damp. If an insulation underlay with integrated vapour barrier (DS) is used during installation, the PE foil is superfluous. The further floating installation of impact sound insulation and laminate on the foil is governed by the installation instructions for your HARO Laminate. The instructions also contain information about underfloor heating and impact sound insulation.

Here you can get an idea of how quick and easy it is to install our laminate flooring with Top Connect or Lock Connect plus: More information on laying HARO laminate.
Suitable underfloor heating systems for your laminate flooring
HARO laminate - both with and without impact sound insulation - is approved for almost every type of underfloor heating or cooling due to its high-quality, well thought-out technical construction. This includes hot water underfloor heating and electric underfloor heating (with the exception of electric night storage systems). In addition, infrared heating for floors, underfloor heating by heating mat as well as all types of panel heating made of prefabricated elements. Particular attention should be paid to the maximum surface temperature of 29°C on laminate flooring.
Cool trend: the floor cooling system
How wonderful to relax in a cool, well-tempered home on a hot summer's day. This pleasant difference in temperature to the heat outside can be achieved very easily today: With a floor cooling system. This uses the water system of a modern, water-operated underfloor heating system for a pleasant cooling effect by means of cold water. To avoid the formation of condensation on the surface of the laminate, a dew point monitor must be integrated into the control of the cooling system.
Which laminate on electric underfloor heating?
When retrofitting as part of a modernisation project or when building modern low-energy and passive houses, people like to use electrically operated underfloor heating systems. This type of heating has many advantages - however, an important point with electric heating is the choice of floor covering. Our HARO laminate floors meet all criteria unconditionally and can therefore - unlike many other floor coverings - be laid on heating mats and electric underfloor heating without any problems.