Laminate makes it cosy in the bathroom too
HARO Laminate TRITTY 200 Aqua with moisture protection.
Our laminate flooring brings the best of both worlds into your home: natural decors that are almost indistinguishable from real wood and a technical construction that makes the floor very resilient and easy to maintain. With our HARO Laminate TRITTY 200 Aqua, you can now enjoy these advantages in wet rooms such as kitchens and bathrooms. This opens up completely new possibilities in individual room design: why not choose laminate instead of the usual tiles for your bathroom floor? In contrast to the cool, slightly sterile atmosphere of a tiled floor, a completely new, warm feel-good ambience awaits you with our wet room laminate.

Enjoy the warm radiance and natural lifestyle of laminate in an authentic wood look now also in the kitchen, bathroom, hallway and guest WC.
Simply better: our premium laminate flooring with extra moisture protection
Rely on the harmonious and natural look of our premium laminate flooring in bathrooms and kitchens - and at the same time on guaranteed moisture protection thanks to the highest level of swelling protection and special impregnation. With our damp room laminate HARO TRITTY 200 Aqua, you can enjoy a whole host of benefits:
Ideally suited for damp rooms, e.g. bathrooms
Withstands standing tap water for up to 24 hours
Double protection against moisture thanks to the aquaTec system and the highly swellable aquaReject core board
Laminate flooring available in many oak decors as well as in the formats Plank 4V and Gran Via 4V
Highest durability and abrasion resistance thanks to use class 23/33
Very suitable flooring for underfloor heating and cooling
Easy to install with Top Connect
Double safety in damp rooms with aquaTec and aquaReject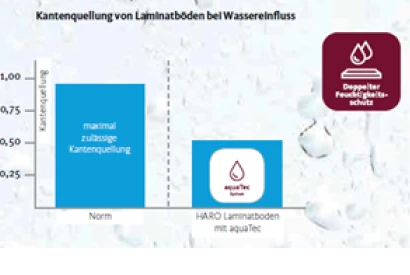 The aquaTec system is based on a special, highly swell-tempered HDF core board and a particularly intensive impregnation. This system makes our HARO laminate particularly stable and possible edge swelling is reduced to an absolute minimum. In this way, aquaTec offers you additional, guaranteed security for long-term, beautiful living - even when things get wetter and splashier.
Another plus in terms of moisture protection is our highly swellable aquaReject core board. Thanks to this layer, our floor is HARO TRITTY 200 Aqua is optimally protected against moisture and, when glued over the entire surface, is also approved for installation in damp rooms (W0-I according to DIN 18534).

These rooms include domestic bathrooms and kitchens, but also corridors and building entrances exposed to moisture or commercial areas where water is used HARO TRITTY 200 Aqua withstands standing water for a period of up to 24 hours thanks to the highest swelling treatment and the special impregnation.
Have moisture-proof laminate installed safely and professionally
Thanks to our Top Connect click system, our moisture-proof laminate can also be installed in rooms such as kitchens and bathrooms at any time. However, you should bear in mind that our HARO TRITTY 200 Aqua must be glued down over the entire surface in damp rooms. This requires a lot of experience. We therefore recommend that do-it-yourselfers seek professional assistance. In this particular case, it is better to leave the installation to a professional with a lot of competence and know-how. You can easily find a specialist in your area at HARO.
The self-adhesive strips of a HARO TRITTY Silent CT ensure an improvement in room sound. When installing TRITTY 200 Aqua in damp rooms, however, Silent CT is not sufficient as a full-surface adhesive. The laminate flooring must be glued down there, then in the version without Silent CT.
If you still feel confident, you can of course install and glue down your laminate flooring yourself. We have put together lots of useful tips and tricks for you. You can find an overview of all the advice and installation videos here.

Please also always observe the specifications in the installation instructions as well as the following notes:
Use in wet areas such as saunas or showers is not permitted.
The moisture content of the subfloor must comply with the standard specifications when laying the floor.
New ideas for your bathroom
Open room design and flowing transitions between bathroom and bedroom. Damp room laminate opens up completely new possibilities for bathroom design, without tiles or PVC flooring. With our laminate flooring for bathrooms, kitchens and the like, you can bring colour and lifestyle into living areas that would otherwise only appear cold and sober and therefore uninviting with monotonous ceramic flooring. Thanks to the high use class 23/33, it is also ideally suited for particularly busy living areas such as corridors and hallways.

Realise your ideas of a loft-like home with wide, continuous surfaces. And look forward to healthy, anti-static flooring throughout your home, which doesn't even stop at the door to the bathroom. This is the right way to set the scene for your bathtub.
Bathrooms with laminate flooring, is that good?
Yes, definitely! In terms of ambience and lifestyle, laminate brings a whole new attitude to life into the bathroom. Instead of classic cool tiles in a traditional "bathroom look", wet rooms with laminate become an oasis of well-being with a wellness character. And when it comes to technology, construction and safety, our HARO laminate TRITTY 200 Aqua is in no way inferior to tried-and-tested bathroom ceramics.
Which laminate for the bathroom?
For bathroom design, we have developed our HARO Laminate TRITTY 200 Aqua - the premium laminate flooring with excellent moisture protection. The series TRITTY 200 Aqua series is available in many decors and two particularly attractive formats: Plank 4V and Gran Via 4V. Your bathroom will be an eye-catcher.