Laminate: Everything you need to know about the versatile floor covering
Robust, durable and easy to install. High-quality laminate with authentic wood decors turns your four walls into a feel-good paradise.

If your new home is crying out for renovation and you'd prefer to do it yourself, you're guaranteed to hit the bull's eye with laminate flooring. Thanks to modern decors, laminate is almost indistinguishable from parquet. From oak* to maple* to walnut*, laminate brings the natural look of wood to your floor. At the same time, this floor covering is particularly resilient and easy to care for. Laying laminate flooring is also a real breeze. With click laminate, you become a DIY king even without much previous knowledge.
Advantages that convince
Laminate is not one of the most popular floor coverings for nothing. Of course, the planks are real all-rounders. Anyone who installs laminate flooring can look forward to a hard-wearing floor that is above-average in terms of scratch resistance, abrasion resistance and resistance to pressure and impact. The chic planks will not lose their shine even after years, because they are resistant to heat and UV light. So you can already look forward to your housewarming party. Because even cigarette burns can't harm laminate.
Move in and feel good. Laminate flooring can take a lot and is still chic and easy to clean.
The easy-care flooring is available in a wide variety of decors. The plank pattern oak old wood* goes perfectly with your vintage furniture, while smoked oak* radiates a cosy warmth. Or maybe the look of a light-coloured laminate, like the Oak Dolomiti* decor, is just your thing. In the end, only your personal taste decides. But one thing is certain: your guests will definitely have to look twice to realise that they haven't laid a parquet floor made of real wood.

You can find more information about the laminate flooring look here.
Tip:
By the way, laminate also becomes a real eye-catcher on the wall. From a clean, ultra-modern look to traditional panelling on the walls in a rustic wood look.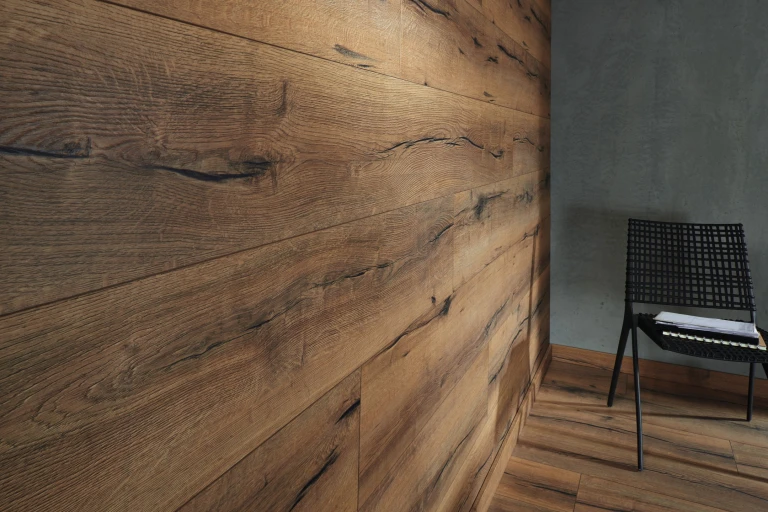 Our high-quality laminate in authentic wood plank look not only looks classy and natural, it is also very easy to install. However, click laminate should not be laid on top of an existing floor covering. Even if you choose a floating installation, the subfloor should be clean and even for an optimal result. Please always remove old floor coverings, especially carpets. Do you live in a rented flat? No problem, because the floor is removed just as quickly as it is installed.

Our modern laminate flooring is even suitable for underfloor heating and cooling. With the TRITTY 200 Aqua series, installation in damp rooms is also no problem.
Since HARO click laminate is also optionally already equipped with integrated Silent Pro impact sound insulation, you don't need to worry about anything else when laying the laminate and can enjoy a quiet floor.
Tip:
Would you like your laminate flooring to be particularly quiet? Then we present the quietest laminate flooring in the world, with HARO Silent CT.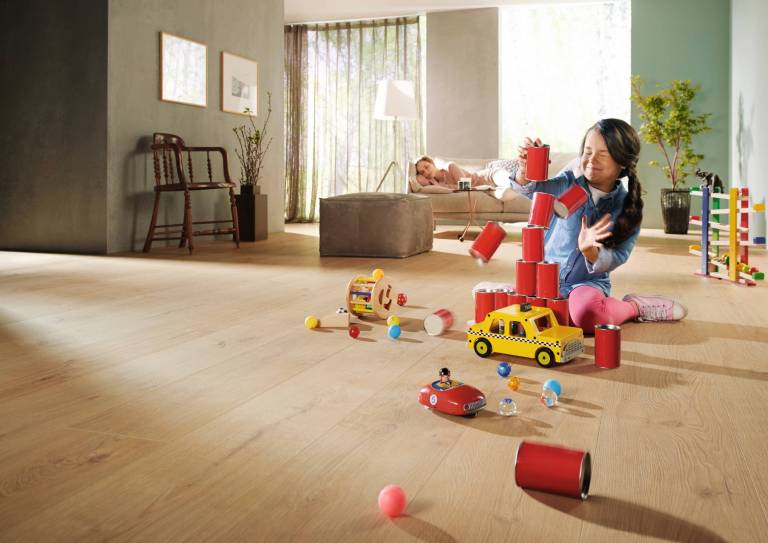 How is laminate actually constructed?
Laminate differs from parquet in its structure. Instead of wood, the top layer of a laminate floor consists of an overlay and the visible decorative layer underneath. This determines the look and can be designed completely freely by the designer. Below the decorative layer, laminate flooring also follows the principle of a multi-layer structure. The middle layer is the carrier layer, for which HDF boards are used in most cases. And to top it all off, there is a stabilising backing laminate that compensates for tension.

The overlay is not a sealant as with parquet, but a specially impregnated layer that makes the laminate particularly resistant and ensures abrasion resistance. Optionally, an additional insulating underlay can be applied as the bottom layer, which experts refer to as laminated. These different layers are pressed together under high temperatures and pressure to form the finished plank.

You can find more information about the laminate flooring structure here.
What is special about HARO Laminate decors?
High-quality laminate is characterised, among other things, by intricately designed surfaces. Since our heart beats for wood and HARO and, as one of the leading parquet manufacturers, we have the know-how for a particularly realistic wood look HARO Laminate floors are designed with wood decor. A high-quality and particularly abrasion-resistant overlay is applied over this, which in many cases has a structure. This means that the embossing of the overlay imitates the grain and structure of real wood. And in the case of our "authentic" structuring, this embossing is even matched exactly to the wood grain of the decor layer, in order to also enable a haptic experience of the decors. You can not only see it, you can also feel it. The result is an individual plank look that is almost indistinguishable from a real wooden floor.
As beautiful as real oak, beech and co.
Laminate flooring is not only easy to care for and simple to install, it also impresses with its varied appearance. From light to dark, from oak* to Italian walnut*, the choice of decors is huge. Laminate gives every room an inviting, cosy look and always looks modern. It almost feels like you're bringing nature right into your home.

Classic laminate planks or laminate 3-strip (ship's floor) can hardly be distinguished from real wood parquet thanks to the elaborate surface finish. The structured decors authentically reflect the surfaces of wood. If you want, you can even discover fine pores and cracks on your new laminate flooring. Just as if you had laid wooden floorboards in your four walls. Of course, there is also smooth laminate with a matt, natural look and less texture. Not every room is the same and tastes differ. You decide which decor best suits your life. You are guaranteed to find what you are looking for in our wide variety of laminate flooring.
Laying click laminate is uncomplicated
You have decided on a decor and now you want to get started? No problem, laying laminate floating is child's play with our click system. Whether it's a plank pattern or a ship's floor look, your new click laminate will be ready to live in sooner than you think. Before you lay your laminate floor, you should make sure that the subfloor is level. This will give you a floor that is tread-resistant, quiet and beautiful for a long time. If you do discover one or two unevennesses on the subfloor, you can easily smooth them out with a levelling compound that runs itself to an even surface.

During installation, the individual elements of the click laminate are joined together, but not to the subfloor. It is important that there is enough space between the wall and the floor. Spacer wedges, which you can easily remove again at the end, help you with this. Without expansion joints, the laminate may bulge over time. Click laminate is the easiest and quickest way to a beautiful floor with decors that you would otherwise only find in nature.

You can find more information about laying laminate flooring here.
Live more, scrub less
From the plank pattern oak* to the 3-strip in the decor holm oak*, all designs have in common that they are absolutely easy to clean. Click laminate is antistatic and dirt-repellent. So all you usually need for weekly cleaning is a broom or hoover. Great, so you still have enough time to enjoy the weekend. Allergy sufferers can also breathe easy again with laminate. Mites don't stand a chance here. Of course, there's no harm in occasionally damp cleaning your new laminate with a flat mop. Special laminate cleaner ensures that your laminate flooring will continue to shine for years to come. So you can enjoy your laminate flooring with its elegant plank look for a long time.
You can find more information on cleaning here.