Care for parquet properly
Our tips for cleaning parquet flooring and optimal parquet care.
When you install parquet in your home, you are choosing a durable floor covering that will give you many years of pleasure in the future. However, to maintain the value of your new parquet floor for a long time, you should clean and maintain your floor regularly.
Simply clean
You can remove dirt and dust from the high-quality surfaces of our parquet floors in no time at all. Dry cleaning with a hair broom, mop or hoover is usually sufficient. We recommend hoovers with a parquet nozzle for this purpose, as the floor is not scratched. If, after a walk through the woods, coarser dirt is carried into the cosy living room, damp cleaning is unavoidable. Simply wipe your parquet with a damp cloth using a flat mop. It will be clean again in no time.
Well maintained
From time to time, it is also necessary to re-care your high-quality parquet floor, depending on the load and stress. Whether you want to re-oil or refresh a sealed floor, both are almost as easy today. This way, the appearance is beautiful again and at the same time you build up an additional protective surface layer on your wooden floor. Simply apply the appropriate care product evenly with a weed wiper, let it soak in and you're done.
Tips & tricks so that you can enjoy your parquet floor for a long time.
1. Preventing scratches and dents in your parquet floor
Even before cleaning and caring for your parquet floor, there are a few preventive things you should consider. Whether your parquet is oiled or sealed, you can avoid unsightly scratches in the wood caused by "moving chairs" by using Teflon (PTFE) furniture glides, e.g. under the kitchen chairs, or polycarbonate mats under the home office chair. In addition, doormats in the entrance area help to prevent stones and dirt from entering the living space in the first place.
2. The right room climate for your parquet floor
Wood is alive. Just like us humans, a wooden floor also enjoys a pleasant and even climate. The ideal room temperature is just as important as cleaning and care to keep your parquet floor beautiful for a long time. Wooden floors feel particularly comfortable at a room temperature of approx. 20 °C and a living climate of approx. 50 - 60% relative humidity. A humidifier helps to keep the room climate regulated. Especially during the cold season in our latitudes, the outside air is very dry, which we humans feel on our skin, which we then moisturise with cream.
With just three products, you are optimally positioned.
A fresh bouquet of dahlias blooms on the beautiful antique chest of drawers, next to it the family photo from the Austrian holiday and on the floor the oiled parquet impresses. With the right cleaning and the appropriate parquet care products, this "high-gloss idyll" from the interior design magazines can also become reality in your home.

Cleaning and caring for parquet is very simple. When it's time to clean the house or you want to treat your parquet floor to a wellness treatment, we recommend our ecologically coordinated clean & green cleaning and care product series. With two cleaning agents and, depending on the surface finish, a care product, you have everything you need to optimally care for your floor.
Parquet cleaner clean & green natural
clean & green natural is ideal for regular cleaning of your parquet floor. The cleaning agent, which is specially adapted to the requirements of modern, sustainably oriented households, convinces with its ease of use and environmental compatibility. The practical dosing aid also makes it extremely economical. Simply add 1/2 dosing head of clean & green natural to 5 litres of cold water and mop your parquet floor with a damp cloth. Stagnant water should of course be avoided. By using cold water, you save energy and avoid unsightly streaks caused by the drying process.
The cliché that parquet is difficult to clean has long been a thing of the past. With the right tips, cleaning and caring for your new floor will be child's play.
Intensive cleaner clean & green active
For the basic cleaning of your parquet floor, the intensive cleaner clean & green active is a reliable partner. Stubborn dirt, e.g. rubber marks from shoe soles or grease stains are easily removed by clean & green active. Here, too, 1/2 dosing head to 5 litres of cold water is sufficient. Wiped with a misty damp cloth, your floor will quickly be sparkling clean again.

How often you have to clean your parquet depends on the intensity of use and the degree of soiling. As already described, dry cleaning is usually sufficient, followed by damp cleaning with the parquet cleaner from time to time. Intensive cleaning is mainly used before using our parquet care products, as this avoids dirt trapping under the new protective layer.
Parquet care clean & green aqua shield for sealed wooden floors
clean & green aqua shield is the perfect parquet care for our sealed parquet with permaDur or naturaDur surface finish. In addition to a visual refreshment, clean & green aqua shield protects the parquet from moisture penetration from above and increases its durability. Before applying clean & green aqua shield undiluted with floor mop "Wischwiesel", please carry out a basic cleaning with the intensive cleaner clean & green active to remove dirt and dust.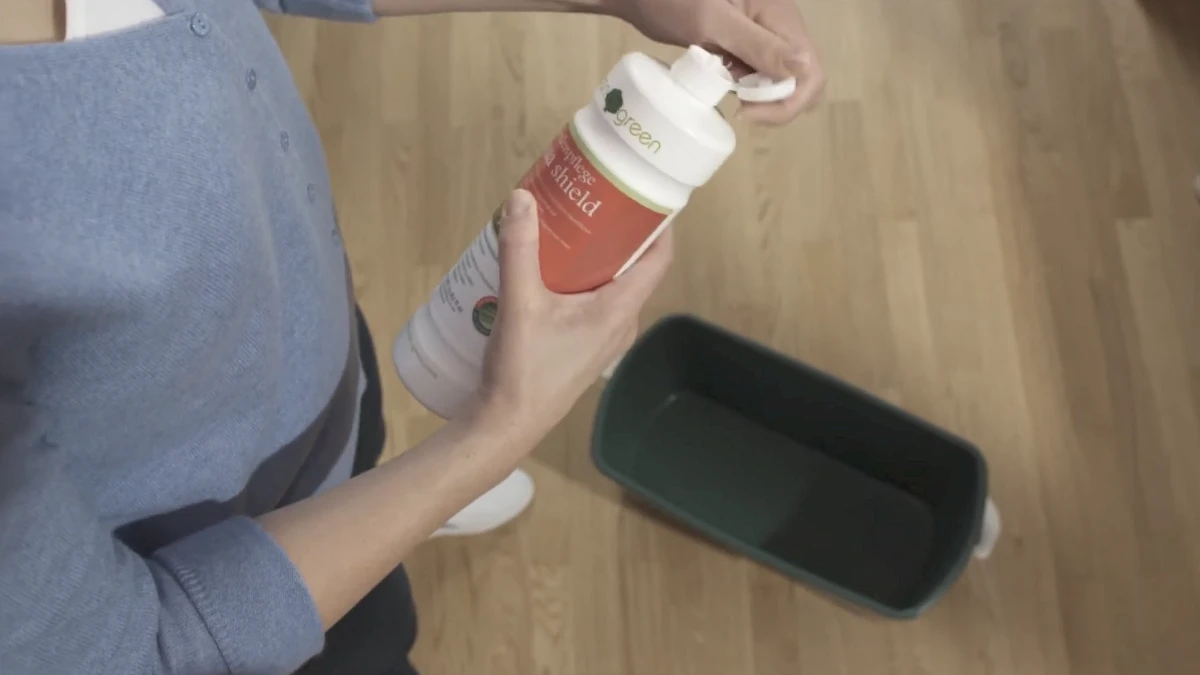 You can't maintain sealed parquet or coated floors? No way! We'll tell you how to give stressed surfaces a new shine.
Parquet care clean & green aqua oil for oiled wooden floors
With clean & green aqua oil, caring for oiled parquet floors is child's play. At HARO these are the parquet floors with naturaLin plus surface. With our parquet care product for oiled surfaces, you can care for your floors yourself and are not dependent on an expensive care machine or a craftsman. And above all, the drying time is considerably shortened.

After the basic cleaning of your parquet floor with the intensive cleaner clean & green active, apply clean & green aqua oil undiluted with the floor mop "Wischwiesel". Spread the aqua oil evenly over the parquet in overlapping strips in the direction of the wood grain. The floor can be walked on again after just 2 hours. In addition to oiled parquet flooring, clean & green aqua oil is also suitable for the initial care of our HARO Spa parquet for use in the bathroom. Here, aqua oil must be applied twice to guarantee a perfect result. The care product for oiled parquet based on raw materials such as linseed oil is 100% free of solvents.
Caring for oiled parquet has never been easier. This way you can keep your floor beautiful for a long time without the need for a maintenance machine.
Cleaning and maintaining parquet is easy. So that you know how to care for your floor, our floors come with care instructions. You can also download these care instructions digitally here.
No matter whether you choose our clean & green series or other cleaning and care products. When caring for your high-quality wooden floor, please refrain from using home remedies in any case. "Life hacks" and tips based on experiments and internet videos will certainly not do your parquet floor any good and may even cause permanent damage.