The advantages of parquet with underfloor heating
Underfloor heating and parquet flooring, is that even possible? We tell you what you need to know about it.
There is hardly anything better than coming home after a long walk in the woods and feeling a comfortably warm floor under your feet. More and more people want to have underfloor heating. However, this type of heating not only ensures a pleasant living climate, underfloor heating also helps to save energy. A parquet floor over your underfloor heating provides additional living comfort and natural cosiness in all rooms. If you are now wondering whether a floor made of real wood and underfloor heating go together at all, we can give you the green light. Our modern prefabricated parquet is suitable for laying on underfloor heating. This has even been confirmed in extensive scientific tests by the Fraunhofer Institute. By the way, the same also applies to underfloor cooling under your flooring.
Which parquet is suitable for installation on underfloor heating?
Thanks to modern manufacturing processes, you can have more and more types of wood installed on underfloor heating. Our multilayer parquet even has such favourable heat transmission resistances that no wood species need be excluded. Even wood species such as beech are approved for use on underfloor heating at HARO. A wooden floor also saves energy, because the heating can be switched on later and switched off earlier, as wood dissipates its own body heat less easily and the floor feels warmer by nature. In general, the radiant heat of underfloor or wall heating is also considered to be healthier and more pleasant because, for example, the (cold vs. warm) air currents of convection heating stir up dust and dry out the mucous membranes.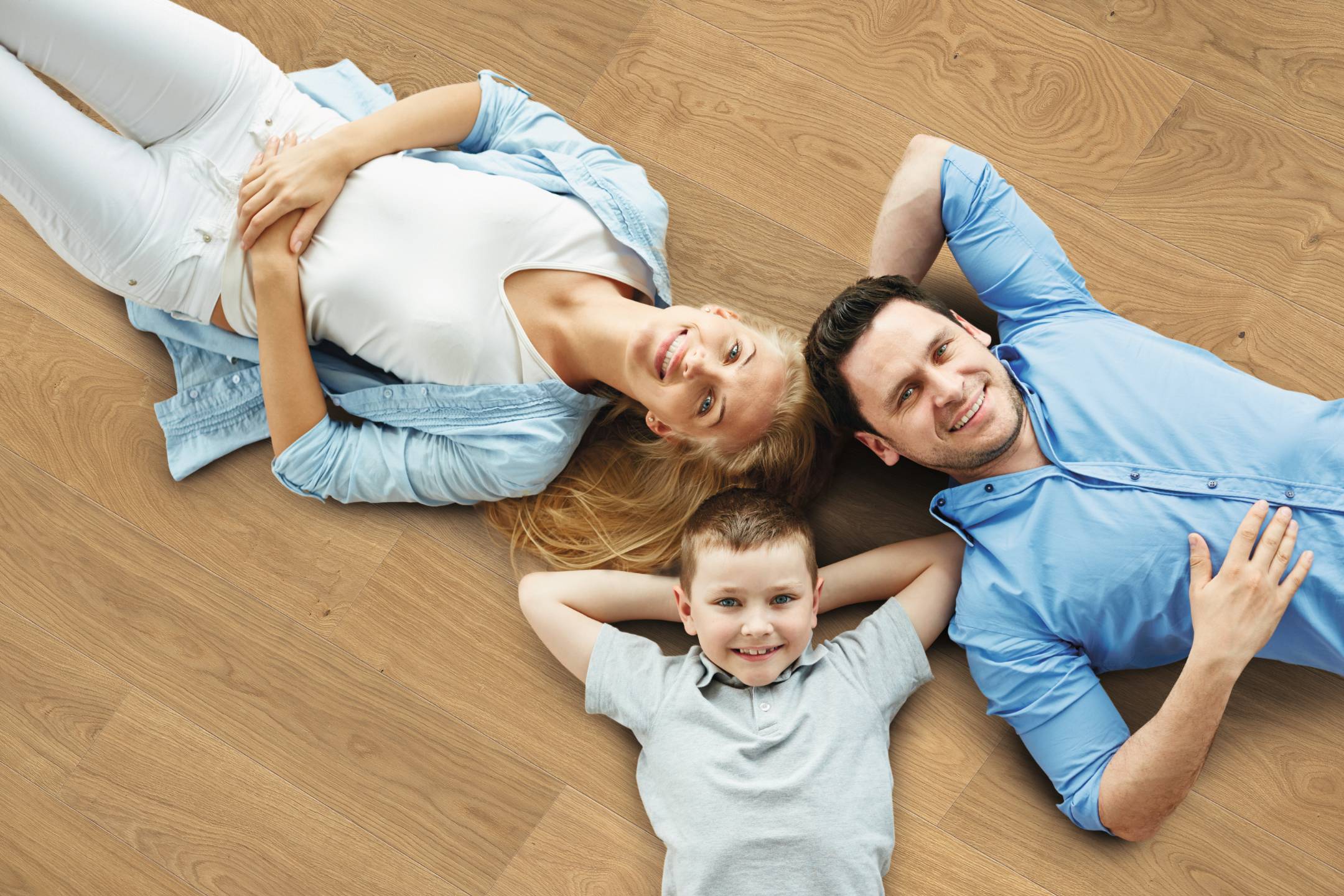 As our entire parquet range is suitable for installation over underfloor heating, you don't have to limit yourself when it comes to designing your home. Our extensive selection of parquet flooring is guaranteed to have the right floor for every taste. So in addition to warm feet, a trendy look is also guaranteed.
You get the greatest advantage with multi-layer parquet and the associated crosswise gluing of the layers. Multilayer parquet also offers a conditionally higher dimensional stability with regard to joints and deformations.
For the love of nature
With underfloor heating, you not only provide pleasant warmth in all rooms, but also protect the environment at the same time by using energy efficiently. Compared to a conventional heating system, the room temperature can be kept about 3 °C lower with underfloor heating, without you feeling any difference. You can imagine how much energy you save per year. Nature and your wallet will be equally pleased.
You are already demonstrating environmental awareness with your choice of multilayer parquet. Because in contrast to solid wood flooring, modern prefabricated parquet uses far less valuable natural raw materials. From one cubic metre of oak wood, approx. 115m² of multilayer parquet can be produced, but only approx. 35m² of solid parquet.

More about the sustainability of our floor coverings
This is how your underfloor heating is installed under parquet flooring
Now it's getting serious! We tell you how to install the heating under your parquet. Suitable systems for installation under HARO parquet are hot water, infrared, panel heating from prefabricated elements as well as electric underfloor heating (except night storage heating systems).

The screed for your underfloor heating must be professionally produced. To ensure that the screed dries properly, the respective drying times should be observed. These are usually at least 21 days for cement screed and at least 7 days for calcium sulphate screed (anhydrite). This is followed by the functional heating, which lasts at least 7 days in each case, and the heating of the floor covering, which lasts at least 7 days, but usually 14 days. In total, this results in a drying time of at least 35 days for cement screeds and 21 days for calcium sulphate.

The underfloor heating is started at a temperature of 25 °C. Then the flow temperature is increased by 10 °C every day until 55 °C or the intended maximum flow temperature is reached. Now heating is carried out for 11 days at 55 °C or the intended maximum flow temperature without night setback. Then reverse gear is engaged and heating is reduced by 10 °C daily until the initial 25 °C is reached again.
The screed must now be checked for residual moisture with a CM device. If the measured values are less than or equal to 1.8 CM % for cement screed and less than or equal to 0.3 CM % for calcium sulphate screed (anhydrite), the screed is ready for covering and the parquet can be laid.

If the floor is not yet ready for covering, please be patient for a few more days and continue to heat the floor at maximum flow temperature. If dummy joints and cracks appear in the screed, these must be connected by pouring a two-component synthetic resin - regardless of whether your parquet is laid as a floating floor or glued over the entire surface.

When the screed is completely dry, your beautiful new parquet can finally be laid on the floor. The surface temperature of the screed should be at least 15°C, the room temperature 18°C and the relative humidity a maximum of 65%. Once your parquet has been laid, this climate must be maintained for another five days.

From now on, you can enjoy the pleasant warmth of your underfloor heating as well as the noble appearance of your parquet.





 
Summer can come
There is probably hardly anyone who doesn't look forward to the pleasant warmth of summer. But let's face it, when it's really hot outside, cooling from below can't hurt. Why not try underfloor cooling? In summer, your underfloor heating - as long as it is operated with water - can also provide refreshing cooling. Only a few additional or functionally enhanced components are required for this purpose

Our HARO brand floors are suitable for installation on underfloor cooling without any problems. To prevent condensation from forming on the surface of your new parquet, all you need to do is integrate a dew point monitor into the control system of the cooling system. And you can already enjoy cool temperatures in all rooms during the summer months.

Whether underfloor cooling or heating, our "Made in Germany" brand parquet can easily be combined with both. It doesn't matter which wood your heart beats for.
Fancy some high-quality design variety?
All our modern parquet floors can be laid floating on underfloor heating or glued down over the entire surface. Simply decide which parquet floor best suits your personal style.