Try out the floor and test the impression of the room
The floor studio of HARO offers you the opportunity to test all HARO Floors in different room situations. Choose the living space that will soon be adorned with a new floor covering - from the HARO From the kitchen, dining room, bedroom, study and living room to the children's room, you can choose from a variety of different living situations. When choosing your new floor, approach your new dream floor bit by bit.
As individual as you are!
When planning with the HARO floor studio, you can choose from five different room situations per room category until the selected living space comes closest to your current furnishings. In addition to furniture and furnishing style, the wall colour naturally also plays a decisive role. Therefore, you can also set your personal existing or desired wall colour.
Once this has been done, you now have a wide choice from the entire HARO flooring range: from parquet to laminate to cork flooring and, of course, also the design floor DISANO, as a healthy vinyl flooring replacement. Browse through the many different HARO floor coverings and choose your favourite. With just one click, the floor will appear in your room scene.

Test the spatial effect of a floor laid lengthwise, crosswise or diagonally or the effect of light and dark colours. Try out rustic or harmonious assortments of parquet or the various plank formats in the room. You can try out everything in advance at HARO Bodenstudio. If you want to test the chosen HARO floor in another room, this is also no problem: the HARO Floor Studio "remembers" your floor selection and "installs" your desired floor in the newly selected room scene. And with the full-screen function, you can even use the entire size of your monitor. Or zoom in close to your new dream floor in three zoom levels.

 
Are you wavering between two floors and can't decide? You would simply have to see the two floor coverings side by side? No problem with the easy and convenient to use comparison function in the HARO Floor studio. Select your two flooring favourites and see them side-by-side in your chosen living situation. Use the slider to switch back and forth between the two floors - and two different wall colours if you wish - and find your new floor! HARO Floor!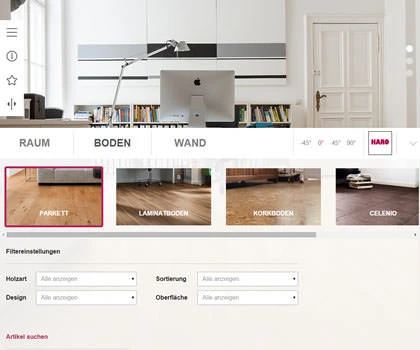 Once you have decided on your floor-wall colour combination, you can save this selection on the wish list and "test" other floors if you wish. In order to be able to access your floor selection at a later date, the floor studio provides you with a HARO Floor studio provides you with a link by means of the button "bookmark wish list". You can either save this in your personal bookmarks or share it with family, relatives and friends. The convenient print option allows you to put your flooring selection on paper: You will receive your chosen HARO Including the correct name and article number, so that you can take it to the next dealer or the HARO Dealer or the HARO Dealer or the craftsman you trust.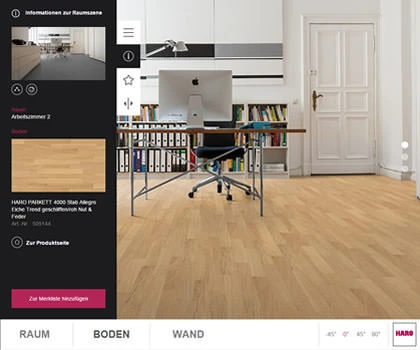 Plan better with HARO CloudTV
With the HARO CloudTV, several people can view a plan together on different computers and thus at different locations. This opens up completely new possibilities for collaboration, consultation and recommendation. Plan your new home together with your HARO Dealer on site to plan your new HARO Floor or use the HARO CloudTV as a completely new possibility for visually-supported telephone consultation! Or use this function with your acquaintances, friends or partner to show them your desired combination and discuss it live via chat or telephone.
With the HARO CloudTV function, the room view is mirrored in real time from your computer or tablet to another computer. All changes you make on the source device are presented 1:1 on the external device, only without the selection fields. In this way, you show other people how you yourself or they could soon be living. This is the contemporary form of interior planning - help each other choose the floor, try out different variations and consult with your family, friends and relatives.

Just try it out: It's easy with the HARO Floor Studio!