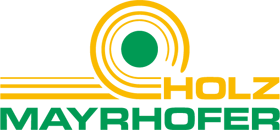 Holz Mayrhofer GmbH
Holz Mayrhofer GmbH



Tittlinger Str. 34
94034
Passau
Company
Overview of products & services
How to find us
Schön, daß Sie uns auf unserer Website besuchen und Interesse an unseren Produkten haben. Wir, als Holzgroß- und Einzelhandel können Ihnen rund ums Holz eine große Vielfalt anbieten. Egal ob Türen, Drücker, Böden, Wand- und Deckenverkleidung, Isolierung, verschiedenste Bauplatten, Hobelware, Massivholz, innovativer Holzbau, Gartenmöbel oder Holz im Garten - bei uns sind Sie immer richtig beraten. Zu unseren Kunden zählen sowohl Schreinereien, Zimmereien, Montagebetriebe, Innenausbau, Industrie, Architekten uvm. als auch Heimwerker.

GESCHICHTE
Die Firma Mayrhofer Holzhandel wurde am 03.04.1945 in Passau Rosenau anfangs als Transportunternehmen und Holzfachhandel gegründet. 1972 folgte zur Betriebserweiterung der Umzug nach Passau Patriching - Tittlinger Str. 34. 1991 wurde Firma Mayrhofer Holzfachhandel zur Holz Mayrhofer GmbH umgewandelt - unter der Geschäftsleitung von Rudolf und Thomas Mayrhofer. 1996 erfolgte die Erweiterung des Unternehmens auf Tittlinger Str. 20 mit Verwaltung und Beratungszentrum. Seit 2002 wird das Unternehmen von Thomas Mayrhofer geleitet.

Heute zählen wir zu den führenden Holzgroßhändlern im Süddeutschen Raum. Unser Einzugsgebiet erstreckt sich über ganz Niederbayern, Teilen der Oberpfalz und Teilen Oberbayerns.

Besuchen Sie uns oder rufen Sie uns an - unsere Mitarbeiter helfen Ihnen gerne weiter!

Ihr HOLZ MAYRHOFER Team
Product line
parkettmanufaktur by HARO
Services
Rental of samples and collections
Sie erreichen uns über die Bundesstraße 85, Ausfahrt Gewerbegebiet Patriching.
Wenn Sie von der Autobahn kommen, verwenden Sie bitte die Autbahnausfahrt 115 Passau-Nord. Biegen Sie dann nach ca. 1km links ab Richtung Patriching.
Google Maps map