Wooden stair cladding for an all-round beautiful result
Stair cladding made from original HARO Parquet
No matter whether you are building a new house with an open room concept and visual axes between the rooms, or renovating your cosy little house, at some point you will also come to the staircase. Of course, this should also be integrated into a coherent overall picture and form a skilful transition between the floors. For this reason we have developed HARO Developed Stairs.

Have you decided on a high-quality HARO Floor covering such as parquet, laminate flooring or design flooring DISANO? Then of course you are also entitled to a perfect look on the stair treads. With HARO Stairs, you can design your living space individually and integrate your stairs into your rooms as a connecting design object - with the same decor or in contrast to your floor HARO Floor. The different options for stair cladding, are made from original HARO Floor coverings: Block steps, format tiles or simply stair edgings - at HARO you will find exactly what you need for your individual room situation.
Do you have a concrete staircase or a cantilever staircase?
Then build an elegant bridge between the floors in style - with HARO Stairs.
 
Block steps
Especially for the covering of self-supporting stairs, but also for concrete stairs, there are the custom-made block steps from HARO. They are used to cover the top and bottom sides.
The special feature: All six surrounding sides are made of original HARO parquet. You can choose whether your block steps are made of original HARO country house floorboards or HARO ship's floor parquet. Of course, we manufacture both straight and curved steps according to individual requirements.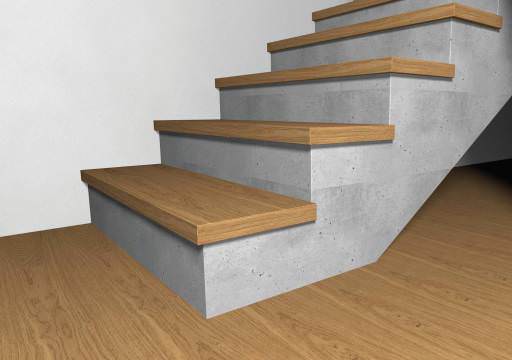 Format slabs
Concrete stairs can also be covered with format boards for the tread and the cladding of the front edge. We also manufacture these from all HARO 3-layer parquet planks and ship's decks. You have a free choice and can also decide between the "Classic" and "Modern" versions.
Format plate "Classic"
with knocked-in front edge (1st step).
optionally with lateral angled edge (2nd step).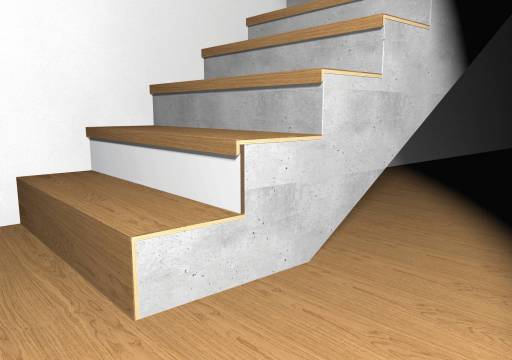 Format plate "Modern"
with connection to riser (1st step).
without connection (2nd step).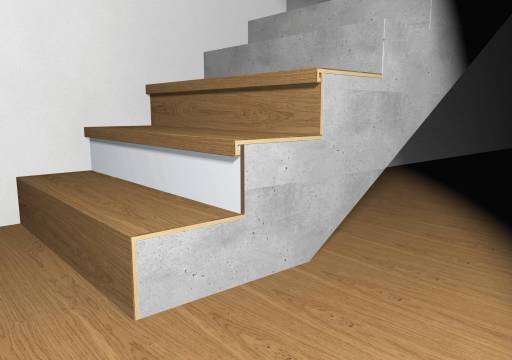 Matching - risers
Riser with joint on one side made of original parquet (1st step).
Riser without joint, MDF coated white (2nd step).
Riser without joint made of original parquet (3rd step).
 
Staircase end trims
But HARO Stairs also includes tasteful panelling in the form of prefabricated stair skirting boards. These are available for our parquet floors as well as for laminate and DISANO design floors. In this way, stairs become an eye-catcher and blend aesthetically into the room setting.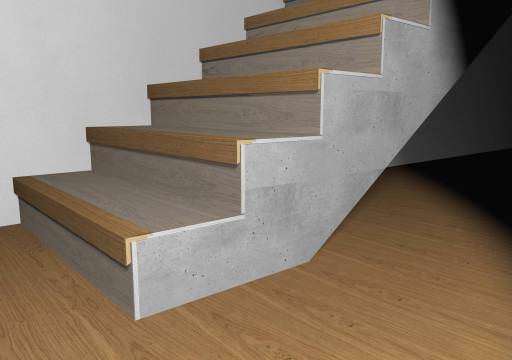 60 x 60 mm, one-sided connection.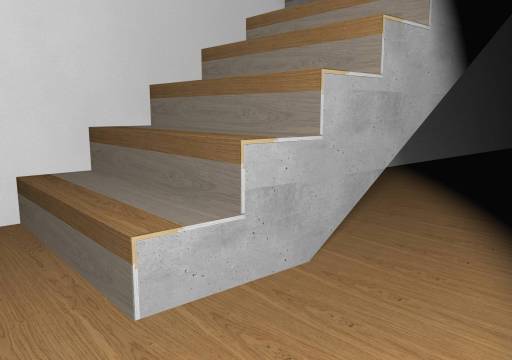 120 x 60 mm, connection on both sides.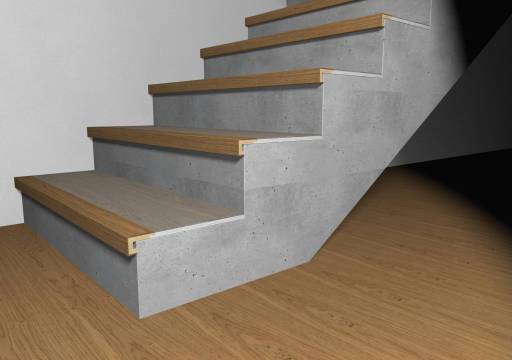 60 x 40 x 20 mm, hammered in.
The skilful transition - with staircase end trims made of original HARO laminate flooring.
It is best to consult a professional, as measuring and ordering require experience and expertise.