With comfort and a clear conscience
HARO Cork flooring - a floor covering that moves with the times. Natural, sustainable and healthy, cork is a real all-rounder. We reveal to you what advantages a cork floor offers you.
Would you like a little more? Your new cork floor has a number of properties that make it a very special floor covering. Cork is easy to clean, easy to install and good for your health. In addition, cork is environmentally friendly, which makes it the perfect flooring if you place particular value on sustainable products. Living close to nature is the trend. This premium flooring made from natural cork bark fits the bill, because cork is healthy for the home in every respect.
With cork you have a clear advantage
Are you a winner? So is your floor! Modern cork floors give your home a soothing atmosphere. This is because the raw material cork has many positive properties. The natural look is wellness for the soul, but your body doesn't miss out either.
Cork is particularly elastic, which makes it the ideal flooring for your living area. Cork flooring is soft to the touch, comfortable and easy on the joints, providing relief for the spine and joints.
Allergy sufferers and asthmatics also appreciate cork flooring. Due to its antistatic properties, cork is dirt-repellent, which means it does not absorb dust or mites. With this flooring, you can breathe easy again.
Did you know:
Cork is as elastic as our skin. A piece of cork the size of a sugar cube has around 60 million air cells. Moreover, cork does not absorb dust, dirt or mites, which is particularly appreciated by allergy sufferers and asthmatics.
Besides the benefits for your health, cork flooring also has some practical advantages. Due to its thermal properties, cork has an insulating effect. So you can easily reduce your heating costs and save money for the next summer holiday. Cork provides a pleasant and constant foot warmth. Combined with underfloor heating, you are guaranteed never to get cold feet again. In addition, cork flooring offers excellent sound absorption. So your kids can romp around here as much as they want.
Good for people and the environment
If you are interested in sustainability, you are doing everything right with cork flooring. Cork is a renewable raw material. This means that it is not only good for you, but also for the environment. This ecological flooring is made from the bark of the cork oak, a 100% natural raw material. Not a single tree has to be felled for its extraction. So you can enjoy your chic new floor and do something for the preservation of our planet at the same time.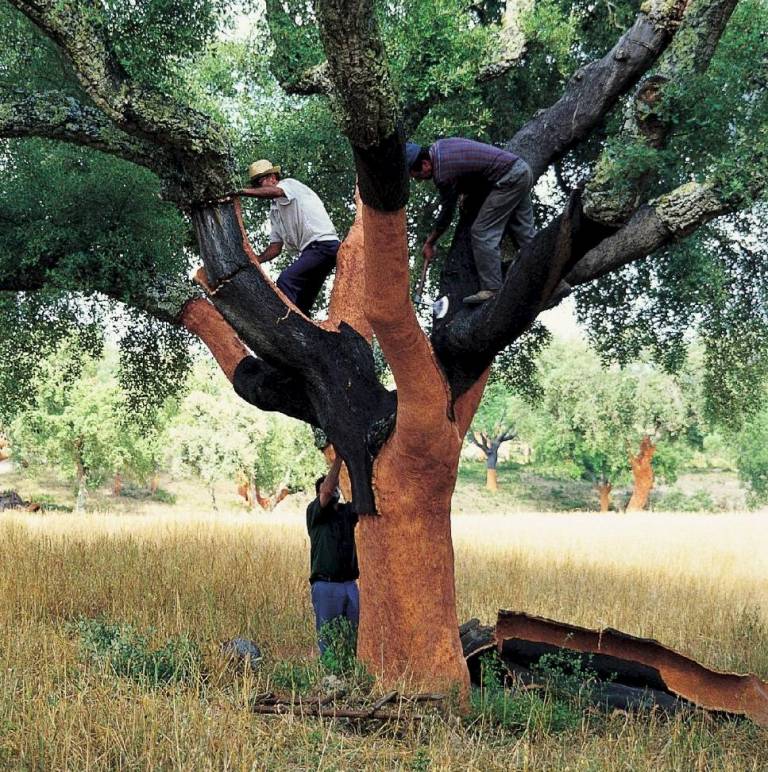 Cork: An easy-care floor covering
Cork flooring is a real all-rounder. Robust, hard-wearing and with a surface that is completely uncomplicated to clean. Because cork flooring is antistatic, it repels dirt very easily. A hoover or a hair broom is usually enough to make your floor shine again. However, if there is more dirt, you can also use a mop. Damp cleaning of your cork floor is absolutely unproblematic. The permaDur sealant gives your cork flooring optimal protection and makes cleaning child's play. In addition, a sealant increases the life of the floor and provides a natural matt surface. Especially for ecologically conscious households, clean & green natural is absolutely recommendable as a cleaning agent.
The classic in a new guise
We all know the classic: cork flooring in a natural look convinces with its healthy living and its unique look. The colours of nature are reflected in the natural version. Harmonious shades of brown radiate a particularly warm atmosphere. But there are also subtle differences in cork floors in natural design. The cork look variants range from light brown to cream and vary in their optical structure.
Oak-look cork flooring is a contemporary floor covering for modern living
Laying cork flooring has never been easier
You don't need a professional to fit out the rooms of your home with cork flooring. The modern, multi-layered construction makes cork flooring dimensionally stable and resistant, making floating installation child's play. You don't even need tools for this. Just like click parquet, the planks are angled in on the long side before being locked in place on the short side with little effort. Your wellness floor is installed in no time at all and you can immediately enjoy the healthy living and softness of the cork. The cork floor can be lived in immediately after installation.

Learn more about how to install cork flooring here.