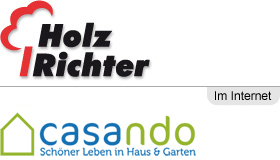 Holz - Richter GmbH
Industriepark Klause
Holz - Richter GmbH
Industriepark Klause


Schmiedeweg 1
51789
Lindlar
Company
Overview of products & services
How to find us
Die Holz-Richter GmbH zählt zu den größten und namhaftesten Holzhandlungen in Deutschland. Auf einer Fläche von 30.000 m² werden Holzfußböden, Innentüren, Gartenhölzer, Schnittholz und Platten in einer riesigen Auswahl und Menge gelagert. Durch diese Kapazitäten kann das 1959 gegründete Unternehmen sowohl Großhandelskunden als auch Einzelhandelskunden schnell und zuverlässig mit einer Fülle von Marken- und Qualitätsprodukten beliefern. Dazu gehört auch das größte Angebot an Holzfußböden und Zubehörprodukten von Haro. Auf 2.000 m² Ausstellungsfläche präsentiert Holz-Richter über 300 Bodenmusterflächen und rund 120 Türen. Hier kann man den persönlichen Traumboden direkt begehen und erhält eine kompetente Fachberatung. Die großzügigen Ausstellungen sind tageslichtdurchflutet, sodass die großen Boden-, Wand- und Deckenflächen sowie die fest eingebauten Türelemente dem Betrachter ein äußerst realistisches Bild der ausgestellten Exponate verschaffen. Die geschmackvoll und individuell gestaltete Parkett- und Laminatausstellung ist einmalig und sucht ihresgleichen. Bei Holz-Richter kann man aber auch bequem und einfach von zu Hause aus im gesamten Bodensortiment stöbern. Im Onlineshop unter www.casando.de kann man anhand hochwertiger Abbildungen und dank des Bodenfinders seinen Traumboden finden. Man kann sich vom ausgebildeten Fachpersonal telefonisch oder per E-Mail beraten lassen und bekommt seinen Holzfußboden zu absoluten Top-Preisen schnell und einfach nach Hause geliefert. Im Onlineshop unter www.casando.de gibt es eine riesige Auswahl an Böden – von Parkett, Laminat und Massivholzdielen, über Furnierparkett und Kork, bis hin zu Linoleum und Design-Vinyl. Der Bodenfinder hilft die Übersicht über mehr als 2.500 verschiedene Holzfußböden zu behalten und die richtige Auswahl zu treffen. Darüber hinaus hat die Holz-Richter GmbH nun auch ihren neuen Onlineshop www.casando.de eröffnet. Dieser neue Onlineshop soll neben der riesigen Auswahl an HARO Holzböden auch das gesamte Sortiment der Holz-Richter GmbH online anbieten. 
Product line
parkettmanufaktur by HARO
Services
Rental of samples and collections
Direkt im Industriepark Klause. Nur 10 min. von der Autobahnabfahrt A4 Engelskirchen.
Google Maps map